Decontamination Solutions for Biotechnology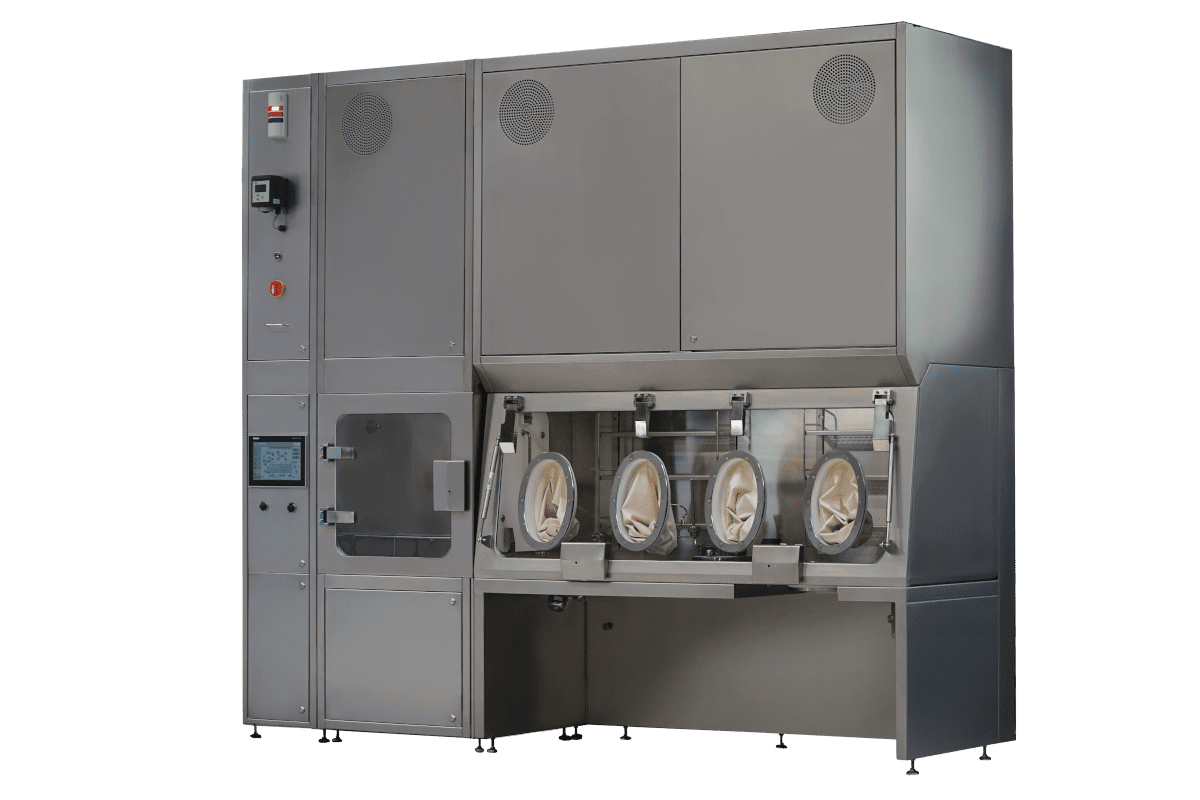 Equipment in the pharmaceutical, cosmetics or biotechnology industries is subject to very strict cleaning and disinfection rules.
Before starting any process, it is essential to eliminate any form of contamination. This requires the use of isolator decontamination devices. Discover the decontamination solutions for biotechnology offered by EREA.
Our decontamination solutions for your equipment
Standards and regulations require compliance with Good Manufacturing Practices (GMP) for medicines. Contamination is the unintentional introduction of chemical or microbiological impurities or foreign matter into or onto a raw material, intermediate or active substance during production, sampling, packaging or repackaging, storage or transport. It is therefore necessary to work with equipment that guarantees total asepsis and to ensure that decontamination is effective.
Decontamination is the process of removing traces of viable micro-organisms. There are several solutions to achieve this: the evaporation of peracetic acid (APA) or hydrogen peroxide (H202). Both agents have a bactericidal, fungicidal and virucidal effect. The H202 method proposed by EREA has two advantages that make it preferable to peracetic acid: almost no corrosion and the possibility of continuous measurement by electrochemical probe.
Our bio-decontamination systems adapted to biotechnologies
Bio-decontamination is one of the essential steps in the operation of a pharmaceutical and biotechnological isolator. The process allows the elimination of all traces of viable micro-organisms in the chamber. The hydrogen peroxide decontamination system can be either built-in or mobile. Equipped with a display screen, operation is simple and intuitive. The rinsing time and the programming of the volumes to be biodecontaminated are facilitated. The equipment can also integrate other functionalities such as the control of the diffusion rate or the temperature control. The EREA biodecontamination device is fast with validatable and repeatable cycles. The sterilising agent has many advantages:
Time saving: the elimination of micro-organisms is fast;
Flexibility: you can adapt the decontamination process to the substances or products handled;
Compliance: the process used complies with current standards and regulations;
Efficiency: using the bio-decontamination system is an efficient solution: it guarantees a 6-log reduction of the microbial load;
Product quality.
EREA, tailor-made pharmaceutical solutions
EREA is a company specialised in the design and manufacture of containment solutions for the pharmaceutical and biotechnology sectors. We are located north of Paris. To guarantee your manufacturing processes under aseptic conditions, we provide you with efficient, effective and innovative decontamination solutions.
Our processes comply with the standards and regulations in force. Depending on the needs of your pharmaceutical or biotechnology industry, we can design and produce customised decontamination systems. These take into account the specificities of your manufacturing or laboratory processes. With EREA's solutions, you will benefit from an efficient technology for the decontamination of your isolators.
If you have any questions, do not hesitate to contact us.
Would you like an estimate for your project?
Do not hesitate to contact us for a personalized quote.