Automatic Aseptic Filling Line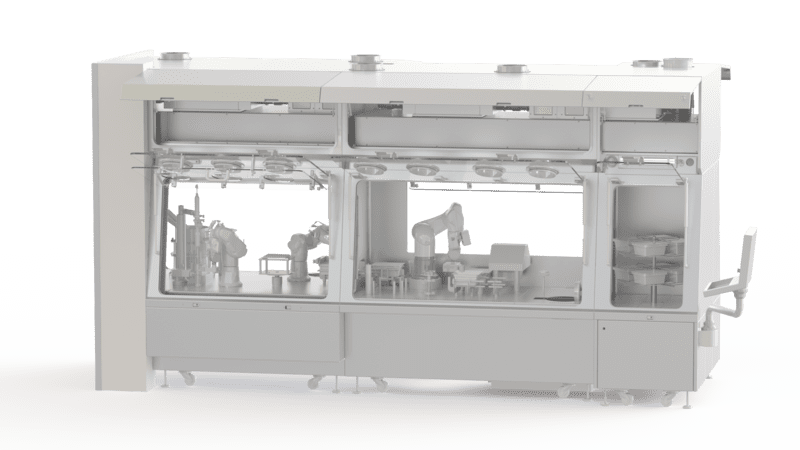 Robotic and automated Aseptic Vial & Syringes Filling Lines with integrated Isolator
EREA Pharma specializes in the development, manufacture and supply of a wide range of solutions for the aseptic processing of toxic or non-toxic products, liquids or powders, in vials, ampoules, syringes etc. Our aseptic filling lines integrate all the equipment required to meet your needs.
Customized Technical Solution
Static and Dynamic protection
Quick installation and Implementation
Isolator:
Air intake through a double glass window allowing space saving under the base plate. The windows are seperable from each other ensuring an optimal cleaning.
Effective and quick bio-decontamination systems with our partners: STERIS and SOLIDFOG.
Filling Station:
Different filling systems depending on the liquid, expected precision and viscosity (peristaltic pump, piston pump, others…), accuracy and repeatability targeted: < 1%,




100% control of volumes by weighing (IPC 100%), automated rejection,




Vacuum or neutral gas filling is possible
Compatibility with any format from any supplier:
Vials & Syringes

(

BD

,

SCHOTT

,

SG-EZ Fill

, others…),




Nest, tray, bulk, etc…




All types of seals (Stoppers,

RayDyLyo®

, others…).
Adaptating the equipement to the configuration of your room,




1/1 scale modeling and full project follow-up including as many meetings as needed,




Flexibility on the positioning of all integrated components,




Expertise, advice, strengh of proposal.
Would You Like an Offer for Your Project?
Do not hesitate to contact us for a personalized quote.
Need a Specific Configuration? Customized Dimensions?
Discover our custom-made insulators designed to meet your requirements