Isolator with H2O2 Biodecontamination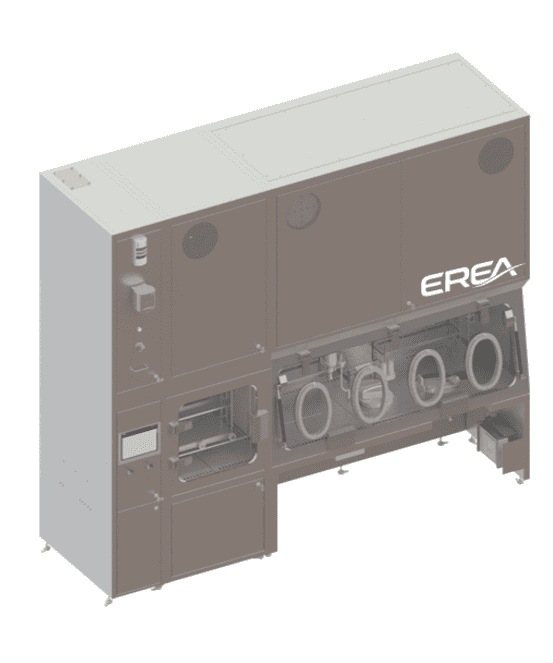 Are you a company operating in the food, pharmaceutical or medical sector and are you looking for a disinfectant, a surface sterilizing agent or an infection control agent? Then you can use hydrogen peroxide or H202.
It is highly effective in clean rooms, cleanrooms and barrier systems. To carry out a hydrogen peroxide treatment, you need an isolator with H2O2 bio-decontamination available from Erea Pharma.
H2O2 Biodecontamination Process
Biodecontamination or sterilization with H202 is a validated and applied technique to eliminate viable microorganisms in the environment of an isolator. This can be done by using an isolator with H2O2 bio-decontamination certified by the standards in force.
Today, many professionals use hydrogen peroxide or H202 based solutions to decontaminate premises in controlled areas. This process takes the form of a misting. This allows the working areas to be bio-decontaminated in a homogeneous way. H202-based sterilization is easy to implement as it can be carried out even at low temperatures. It is also very effective on many types of materials.
The H202 bio-decontamination process is very useful in the food industry, in the pharmaceutical industry and in health care institutions. The process allows for the sterilization of a restricted access barrier (RABS), a freeze-dryer, a filling line, a robotic cabinet, an isolator, a transfer lock and an incubator.
H2O2 Biodecontamination Systems
H202 biodecontamination is done through a surface bio-decontamination system. With this system, you are able to obtain a 6-Log reduction on Bacillus Atropheus or Geobacillus Stearothermophilus spores. To do this, the equipment proceeds to the biodecontamination by spraying the sterilizing agent.
The isolator with H2O2 bio decontamination can be mobile or integrated. It is possible to parameterize it according to the volume to be disinfected. It can also be operated automatically. For easier use, it is equipped with a display screen. It facilitates the programming of the volumes to be biocontaminated and the rinsing times. The device can also integrate other functionalities, such as temperature control or control of the diffusion rate.
Integrating the isolator with H2O2 bio decontamination offers you many advantages:
Time saving: the elimination of micro-organisms is done in a fast way thanks to repeatable and validatable cycles;
Flexibility: with a bio-decontamination system, you gain flexibility as you can adapt the decontamination to the specificity of your workplace;
Compliance: the process used complies with the standards and regulations in force;
Efficiency: using the bio-decontamination system is an efficient solution as it guarantees a 6-log reduction of the microbial load;
Productivity: by opting for the integrated solution, you do not risk interrupting your activity and thus your productivity.
EREA Pharma, manufacturer of isolators with H2O2 bio-decontamination
Are you looking for an isolator with H2O2 bio-decontamination? Then choose EREA Pharma. We are a company located north of Paris. We specialize in the design and manufacture of containment solutions. The H202 bio-decontamination isolator is just one part of the equipment we offer. We guarantee the performance and quality of our products as they are tested in our clean room before they are made available to customers.
The bio-decontamination systems manufactured by EREA Pharma are also innovative and are designed to fit your working environment. Need more information about our products? Do not hesitate to contact us or to ask for a quote. We assure you of a quick response from our experts.
Would you like an estimate for your project?
Do not hesitate to contact us for a personalized quote.