Isolators for Aseptic-Toxic Processes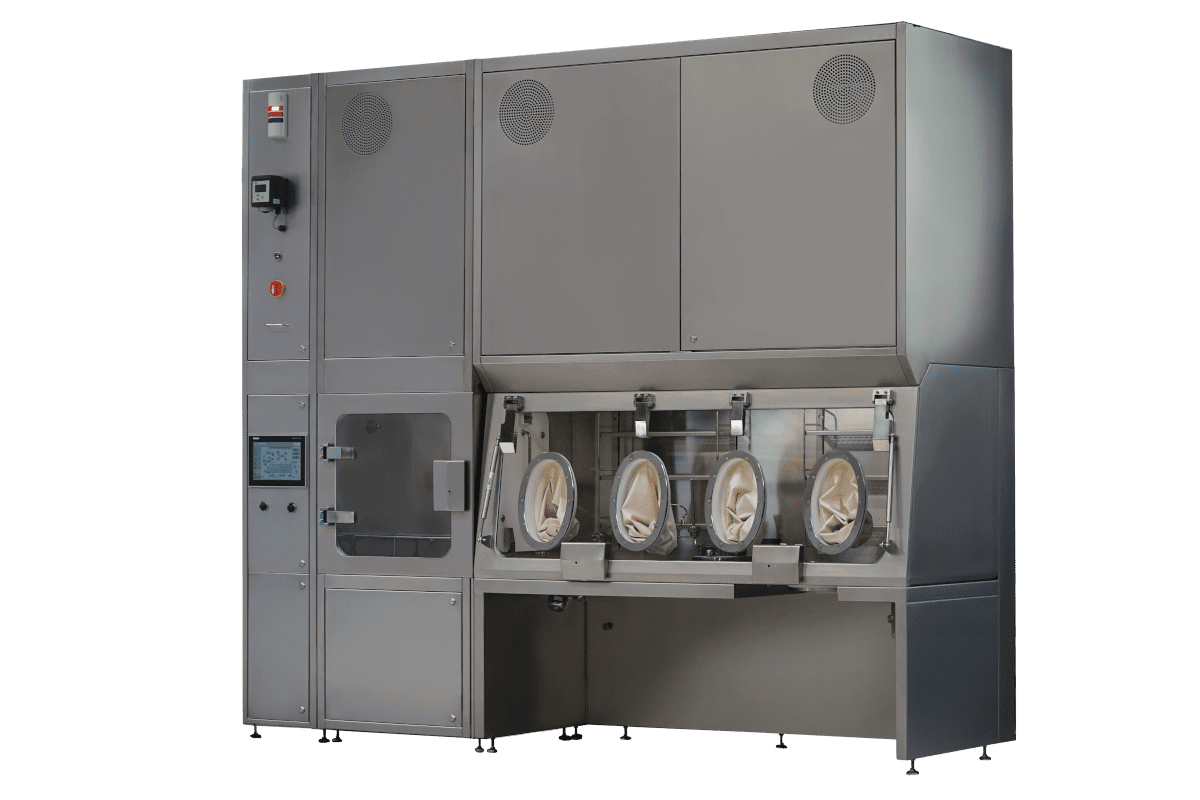 EREA has designed aseptic-toxic process isolators to ensure consistency in an industrial process where protection of product, personnel and the environment is essential.
This isolator ensures safe and reliable production as required by the pharmaceutical industry and related applications.
Our Isolators For Aseptic-Toxic Processes
EREA has developed a range of isolators for aseptic-toxic processes. Watertight and hermetic, the isolator consists of a perfectly sterile main space where you can handle toxic pharmaceutical or biotechnological products. With turbulent or laminar flow, our isolator can reconcile sterility and toxicity (EPO 5 with a vacuum up to -80 Pa) with temperature, pressure and humidity regulation. It also integrates transfer systems that enable the entry and exit of products and the elimination of waste while respecting containment and aseptic conditions.
Equipped with high efficiency particulate air (HEPA) filters, the isolator also uses an integrated bio-decontamination system (by H2O2). These technologies are designed to eliminate microbes and particles from all possible sources of contamination.
EREA isolators comply with all current standards and can be customised to suit your industrial needs.
EREA, Manufacturer of Customised Isolators
Innovative products, customised solutions and efficient service and support have made EREA a major partner for the pharmaceutical industry. Our aseptic-toxic process isolator meets the requirements of pharmaceutical production by integrating innovation and technological know-how.
From design to commissioning, EREA takes care of everything. We provide personalised advice to deliver customised isolators. We have also developed a range of turnkey iso-technical solutions: PSM, sampling cabin, RABS, transfer trolleys, weighing station. All our solutions are adapted to the new realities of the pharmaceutical industry.
EREA Pharma, at your Service to Meet your Needs
For over 30 years EREA has developed feasible adaptations, processes and sterile tests for the pharmaceutical industry. Our equipment benefits from the latest technological innovations, our equipment is manufactured in France and complies with all current standards.
In order to provide you with tailor-made iso-technical solutions, EREA has a 2,500 m2 workshop, a highly specialised team, airflow simulation and 3D visualisation software. We have also set up a clean room to carry out full-scale ergonomic tests.
Get information about our equipment by contacting our technical teams. We can provide you with fast, detailed and personalised answers.
Would you like an estimate for your project?
Do not hesitate to contact us for a personalized quote.