Containment Solutions for the Pharmaceutical Industry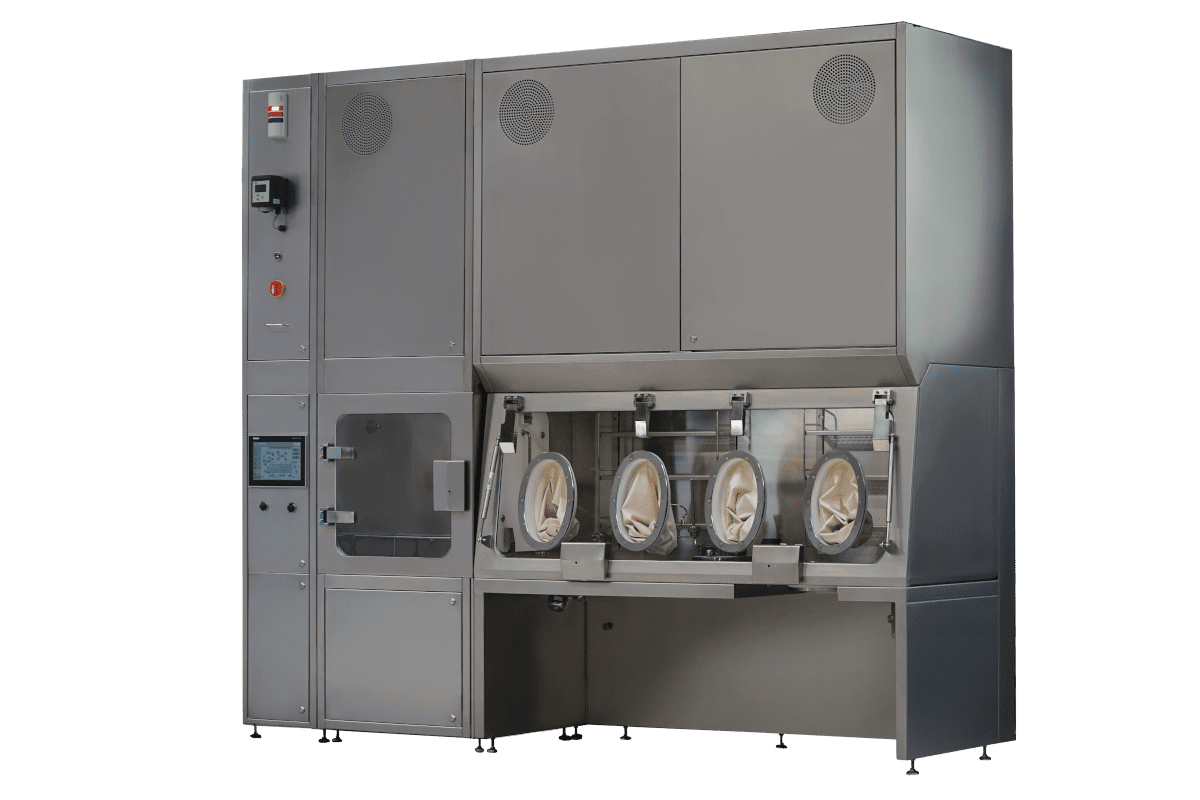 To protect products during handling from the risk of external contamination, the pharmaceutical industry uses perfectly sealed enclosures. This equipment offers a high level of containment and sterility. Discover the containment solutions for the pharmaceutical industry designed by EREA.
Containment solutions made to the constraints of the pharmaceutical industry
The pharmaceutical industry enclosure is a containment space used to handle, store, characterise or package products. Operators can easily and safely handle the substances or products inside the confined space thanks to gloves placed on its transparent wall. The introduction and recovery of the treated or handled products is done through a transfer system, which is also highly sterilised and contained.
Operators working in pharmaceutical laboratories and production units are required to handle highly active pharmaceutical compounds (HPAPIs). Pharmaceutical production, and more specifically the manufacture of a drug, involves critical and technical phases where the quality of materials and equipment is essential to guarantee the quality of the final product. Production standards are very strict and meet national, European and international requirements. The choice of equipment is therefore strategic as it guarantees the respect of hygiene, environment and safety while providing a high quality standard.
Our Isotechnical Solutions
EREA has developed isotechnical solutions for sterile applications. We design and manufacture isolators for the pharmaceutical industry. Our enclosures offer many advantages:
Provide a much better aseptic environment than sterile clean rooms;
Low cost of operation compared to sterile cleanrooms;
Prevent contamination of the external environment or the operator in the event of faults, whether the pressure is positive or negative in the main chamber;
Ensures continued sterility in accordance with current regulations and standards;
Are effective for validation of procedures, aseptic preparations or processes, etc;
Incorporate options and software to facilitate various controls and monitoring.
Depending on the needs of your pharmaceutical industry, EREA can provide you with several customised isotechnical solutions:
Toxic isolators, designed for the safe handling of toxic and cytotoxic products;
Sterile isolators for sterile processes and tests;
RABS ;
Weighing station.
EREA isolators are certified Class A (Iso 5) and Tightness Class 1 & 2.
EREA, a human and passionate company
EREA is a company specialised in the design and manufacture of containment solutions for the pharmaceutical, medical and biotechnology sectors. We offer industries agile and innovative solutions in compliance with current standards and regulations.
In order to provide you with tailor-made isotechnical solutions, EREA has a 2,500 m2 workshop, a highly specialised team, airflow simulation and 3D visualisation software. We have also set up a clean room to carry out full-scale ergonomic tests.
Do not hesitate to contact us for a quote or if you have any questions. We will answer you as soon as possible.
Would you like an estimate for your project?
Do not hesitate to contact us for a personalized quote.