Custom-made Class A Isolators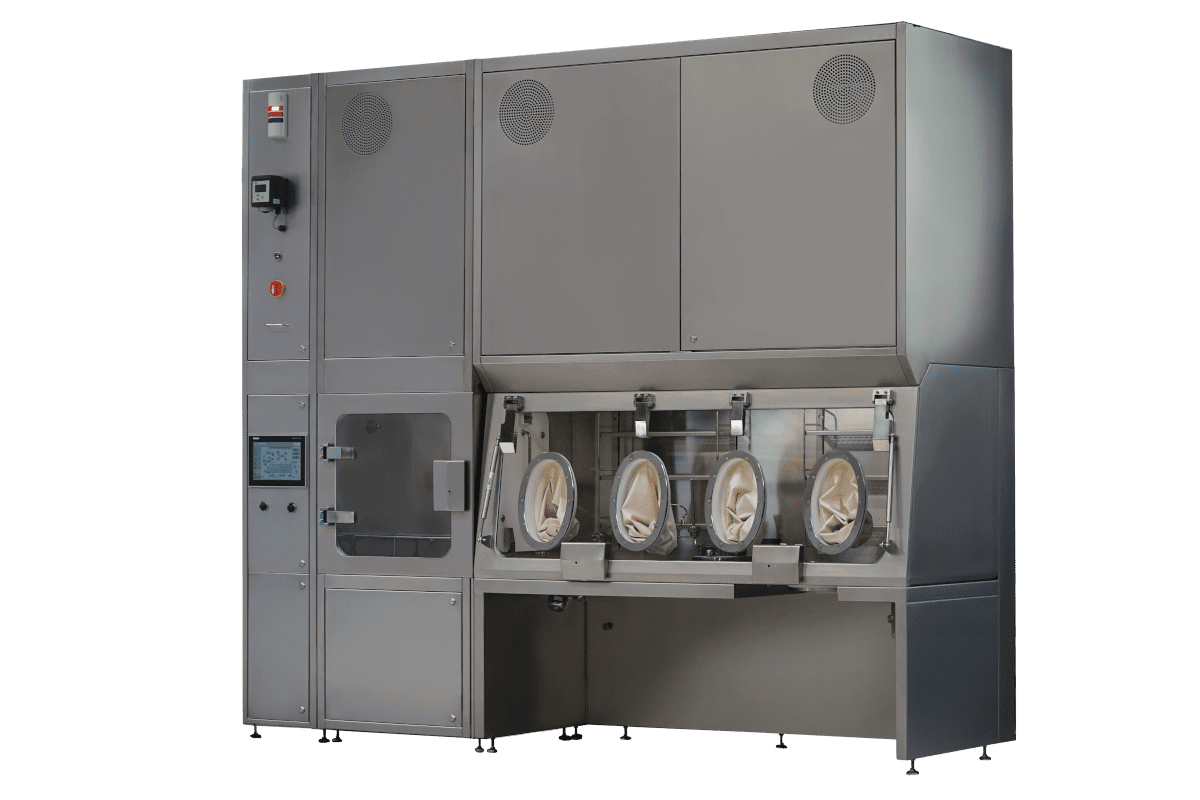 A Class A pharmaceutical isolator is a device designed to prevent contamination of the surrounding environment and maintain the sterility of the product contained. These devices are used in the production and handling of pharmaceutical products. The manufacturing processes are carried out in accordance with the principles of Good Manufacturing Practice (GMP). EREA designs and manufactures customised class A isolators.
What is a Class A isolator?
The Class A isolator is an enclosure or confined workspace providing Class A air. According to the GMP class at rest, it has a maximum concentration of 3520 per m3 for 0.5 μm size particles and 20 per m3 for 5 μm size particles.
One of the main functions of a pharmaceutical isolator is to assist manufacturing processes: preventing external contaminants from entering the isolator and internal products from escaping. The isolator is made up of several layers of materials, including filters and barriers, which allow strict control of the sterility of the work area.
The custom-made Class A isolator is equipped with gloves, placed on the walls of the equipment. They allow the operator to protect himself during the introduction, processing, storage, packaging, handling and removal of high risk substances.
All of our bespoke Class A isolators comply with current standards. These require compliance with Good Manufacturing Practices (GMP) in the manufacturing process of sterile drugs in the pharmaceutical industry. The National Agency for the Safety of Medicines and Health Products (ANSM) is the public body which, on behalf of the State, allows access to health products in France and ensures their safety. When a medicinal product is marketed in France, it has been assessed and authorised for marketing by the ANSM, or by the European Commission following an opinion from the European Medicines Agency.
Characteristics and applications
Trust EREA for the design and manufacture of your customised class A isolators. With laminar or turbulent flow, a bio-decontamination system (H202) is integrated into the equipment. Integrated software and options facilitate the control, recording and adjustment of pressures, temperatures and humidity levels. You will be able to carry out sterile processes and tests while guaranteeing the quality of your products, as well as handle toxic and cytotoxic products in a protected manner.
EREA isolators can be customised to suit your needs and processes. We provide design to commissioning, including equipment qualification (FAT/SAT/QI/QO).
EREA's pharmaceutical isolators are suitable for many applications:
Preparation, handling and processing of cytotoxic and cytostatic products;
Quality control of high-potency active pharmaceutical ingredients (HPAPI) with fine particle size;
Preparation and weighing of powders in laboratory or production unit;
Formulation and characterisation of APIs and HPAPIs for R&D laboratories;
Weighing and repackaging of toxic powders;
Mixing, grinding, sieving and drying of potentially hazardous products and active compounds;
All operations and handling of toxic or cytotoxic products of categories OEB (occupational exposure band) 4-5-6.
EREA, designer and manufacturer of customised isolators
For 30 years now, EREA has been developing feasible adaptations, processes and sterile tests for the pharmaceutical industry. We also offer a complete range of laminar flow, safety cabinets, weighing stations and transfer trolleys equipped with LAF (Laminar Air Flow). We design our products in full compliance with current pharmaceutical regulations and have a strong focus on customer service and proximity.
In order to provide you with tailor-made isotechnical solutions, EREA has a 2,500 m2 workshop, a highly specialised team, airflow simulation and 3D visualisation software.
Get information on our equipment by contacting our technical teams. We are able to provide you with fast, detailed and personalised answers.
Would you like an estimate for your project?
Do not hesitate to contact us for a personalized quote.