Sterility testing for pharmaceutical products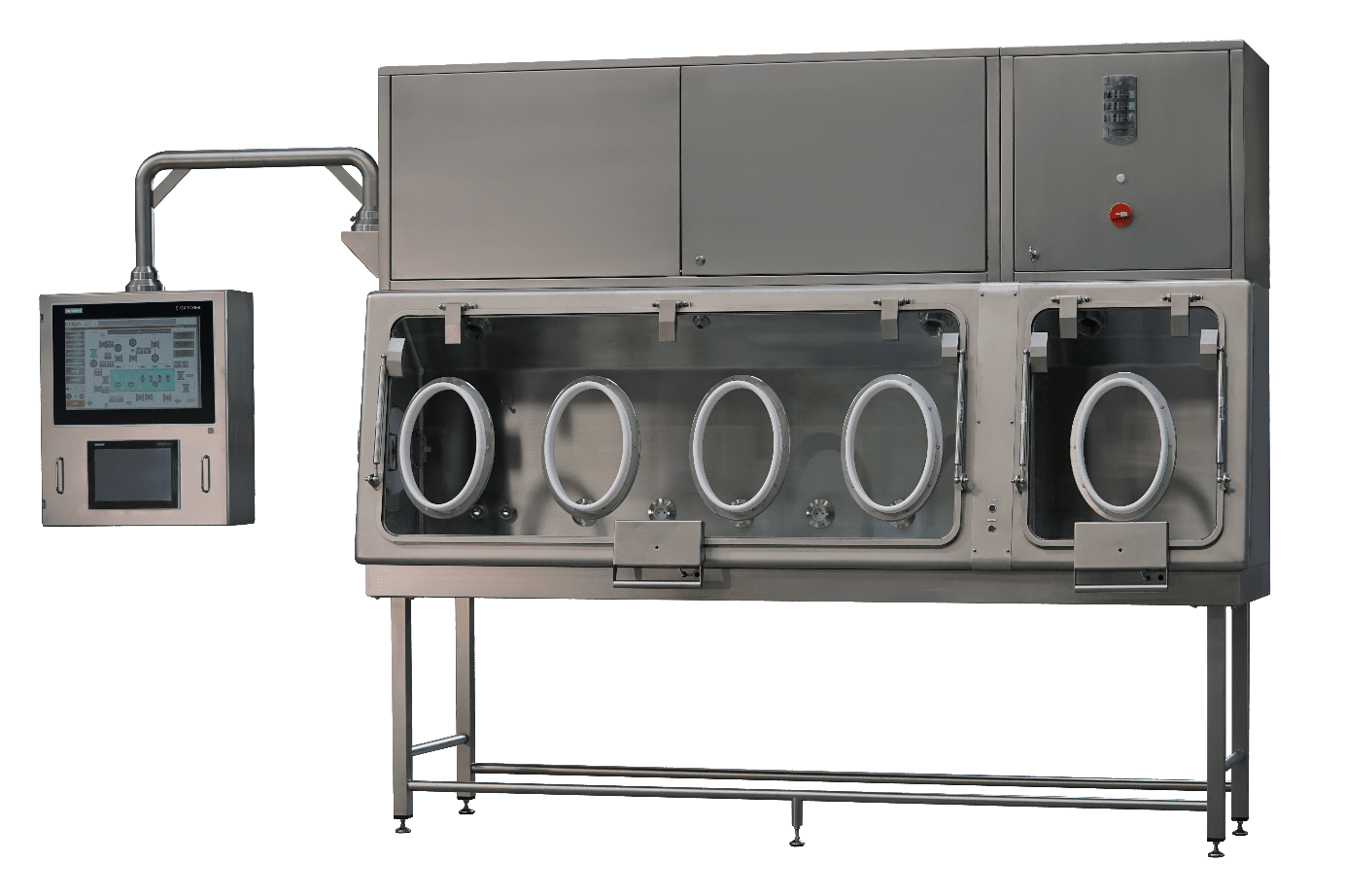 Good manufacturing practices require the performance of a microbiology test to verify that sterile pharmaceutical products are free from microorganisms before distribution to the market. Sterility testing can also be performed throughout the manufacturing process to ensure that medical devices, raw materials, formulations, and processes performed are sterile and free of contaminants.
To perform a sterility test on pharmaceutical products, EREA offers high-performance, custom-made isolators that comply with standards.
Sterility testing of pharmaceutical products
The sterility test is a process carried out in the pharmaceutical industries consisting in verifying the effectiveness of a sterilization or aseptic manufacturing process, according to the strict requirements of good manufacturing practices (GMP) and the standards and regulations in force. .
The purpose of sterility testing of pharmaceutical products is to protect consumers. It is imposed by GMPs and by the standards governing the profession. So many methods are used to carry out tests and sterility trials. To ensure the integrity of the control and verification process, the most effective method is to use an isolator.
It is a piece of equipment offering a confined and sterile environment intended for carrying out sterility tests. The solution makes it possible to test pharmaceutical products, medical devices, raw materials or even pharmaceutical packaging. Thanks to the isolator, the products are tested in an environment that maintains their level of sterility. Using it makes it possible to carry out the tests in confined and sterile conditions and to avoid the risk of having false positive or false negative results.
Discover our solutions for your sterility testing of pharmaceutical products
To carry out your sterility tests on pharmaceutical products, EREA offers various isolator models that meet the requirements of GMP recommendations and meet the strict sealing criteria imposed by the ISO 14644-7 standard.
EREA solutions are designed to guarantee the quality of your sterility tests. They provide a highly confined and aseptic working environment. They are able to detect any source of external contamination and thus guarantee the integrity of the process.
EREA sterility test isolators are class A (Iso 5) certified. Their double HEPA filtration system and their containment solution guarantee their performance and high level of safety. In addition, their enclosure deploys a turbulent or laminar flow system and an H2O2 biodecontamination solution guaranteeing compliance with sterility conditions. For handling the products, the isolator is equipped with gloves attached to the walls. A contained and aseptic transfer system also maintains the sterility of the products during their insertion into the equipment.
In addition, the sterility test isolators for pharmaceutical products designed and produced by EREA integrate functionalities and software making their use easy. They allow the adjustment and recording of pressures, humidity levels and temperatures. They also facilitate the various checks (leakage, sterility, etc.).
EREA, expert in pharmaceutical solutions
To carry out the sterility test of pharmaceutical products, make EREA your partner. Located 150 km north of Paris, the company benefits from 30 years of experience in the design and manufacture of containment solutions. Its products are designed for various applications in the pharmaceutical industries.
For carrying out your sterility tests, the brand provides you with high-performance isolators that comply with good manufacturing practices and applicable standards. They offer you a highly sterile and secure environment, which allows you to test your pharmaceutical products under better sterility conditions. EREA also offers custom isolators, designed to fit your process needs.
If you have any questions, please contact our technical experts via our contact form available on this site or call us on +33(0)3 22 84 39 99.
Would you like an estimate for your project?
Do not hesitate to contact us for a personalized quote.