Standard Aseptic Isolator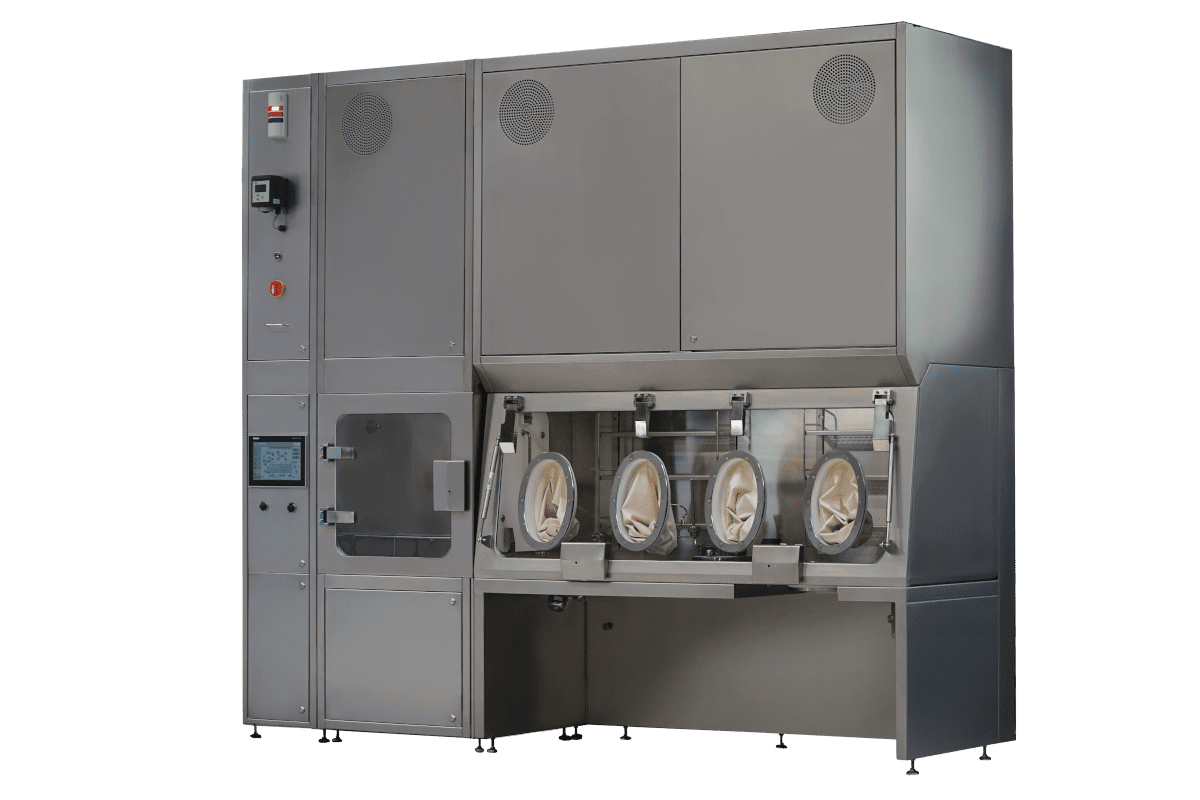 Pharmaceutical industries need a standard aseptic isolator to ensure that their products are manufactured under aseptic conditions. It is a containment solution for handling and processing pharmaceutical or hazardous products. It provides a purified, controlled enclosure.
Oxygen and humidity levels can be parameterized. Innovative, high-performance and reliable, the standard aseptic isolator, designed and manufactured by EREA Pharma, is designed to protect the operator, the product and the environment.
What applications for an aseptic isolator?
The standard aseptic isolator is a piece of containment equipment providing a bacteriologically-tight enclosure. It is used in the pharmaceutical industry to isolate a work area from contamination by the outside environment and by humans. In pharmacy laboratories, it is used to handle potentially hazardous compounds or agents, or intravenous preparations. The containment level of the enclosure is high, as it meets class A (ISO5) standards.
The standard aseptic isolator is used for packaging pharmaceutical products and potentially hazardous substances. It is fitted with a sterilization device to ensure containment of the enclosure during chemotherapeutic and anti-blastic preparations, during transfers of pharmaceutical materials or equipment, or during handling of pharmaceutical compounds…
The isolator can also be used to treat pharmaceutical packaging, equipment and tools. It is equipped with communication systems and a transfer airlock for the introduction and extraction of these products or materials, thus ensuring and maintaining containment.
Features of a standard aseptic isolator
The standard aseptic isolator, designed and manufactured by EREA, offers a Class A (ISO5) workspace. This high level of protection guarantees the safety of the operator, the product and the environment. What's more, its design complies with mechanical, electrical, safety and process standards…
The isolator's performance is due to its laminar flow system. Customizable features include design and dimensions. Depending on the needs of your pharmaceutical industry or laboratory, we can equip it with two, three or four gloves… You can also opt for single- or multi-station isolators. The solution can integrate various accessories and technologies, such as freeze-dryers, presses and compression machines, OEM equipment, formulation and characterization devices…
The standard aseptic isolator is designed to make your production lines more efficient. It features oval or straight work faces and round or oval gloves. The position and inclination of the round gloves can also be customized. The same applies to PLC/HMI touch-screen control and storage solutions.
EREA's standard aseptic isolator guarantees easy and efficient cleaning, thanks to the H2O2 decontamination system it uses, and its design with rounded corners.
EREA Pharma – Designer and manufacturer of standard aseptic isolators
EREA Pharma is a leading manufacturer of containment solutions for the pharmaceutical, food and biotechnology industries. We can offer you a standard aseptic isolator to meet the needs of your production line. Its features can be modified to suit your specific pharmaceutical processes and production capacity. EREA isolators are made in France, a guarantee of superior manufacturing quality. They are designed and manufactured in our 2,500 m² workshop, located 150 km north of Paris. Our products comply with Good Manufacturing Practice (GMP) guidelines and meet the most stringent requirements of pharmaceutical industry standards and regulations.
Need more information on our standard aseptic isolator? Please contact our technical experts via our contact form for a free, no-obligation quotation.
Would you like an estimate for your project?
Do not hesitate to contact us for a personalized quote.