RABS for Pharmaceutical Industry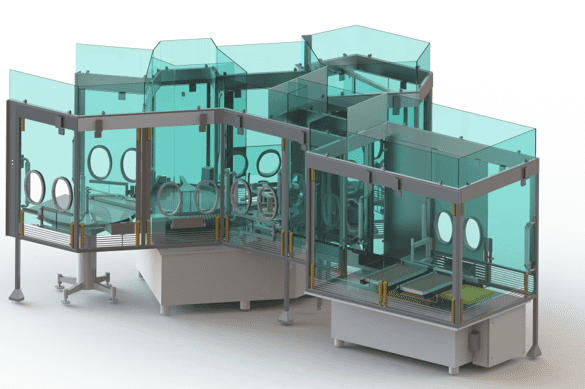 Introduced in the 1990's, the Restricted Access Barrier System (RABS) is a barrier technology that offers effective product protection by providing a high level of separation between operators and the critical aseptic zone.
EREA offers solutions adapted to the needs and requirements of the pharmaceutical industry with a range of RABS guaranteeing protection of the product, the operators and the environment. You can choose between open RABS (active or passive) and closed RABS.
Restricted Access Barrier System (RABS) for the Pharmaceutical Industry
Restricted Access Barrier Systems, or RABS, are bacteriologically enclosed equipment that create a controlled environment for the processing of sensitive and/or hazardous products. With RABS, operators can handle various types of substances in the sterile area, protected from particulate, chemical and microbiological contaminants in the outside air. The systems also allow for the handling of products that may be harmful to the operator's health, such as toxic, sterile, radioactive or infectious substances.
EREA offers the Open RABS with passive or active flow (for non-toxic products). We have also developed the Closed RABS, which is characterized by a closed system, a hermetically sealed enclosure, and has its own air supply and recirculation system.
Do you operate in the medical, pharmaceutical or biotech field? Then EREA's restricted access barrier systems will meet your needs. Our range of RABS ensures total protection. Containment is respected, while bringing flexibility to your line and cleanroom configurations. The traceability of interventions and door openings are also guaranteed.
RABS EREA, Safety First
Restricted access barrier systems are part of the solutions manufactured and offered by EREA. Our products stand out from the RABS currently on the market because they offer a high level of security. Furthermore, EREA is able to equip your restricted access barrier systems with an automatic leak detection system at the level of the cuffs and gloves. All these solutions ensure the safety of the products handled and protect the health of employees from dangerous products.
In addition to offering a high level of safety, the EREA RABS allow you to reduce your budget dedicated to the installation of a confined environment. Compared to clean rooms, RABS are less expensive. In addition, maintenance is economical. Finally, EREA's RABS guarantee you a gain in productivity thanks to the reduction of time spent on cleaning, sterilization and changing clothes.
EREA, Solutions for the Pharmaceutical Industry
For your RABS installation project for sterile applications, trust EREA. We are a company specialized in the design and manufacture of pharmaceutical solutions. Thanks to our technical skills, we provide efficient and effective containment systems.
EREA provides you with customized restricted access barrier systems. Before designing them, we take into account a number of parameters, such as your needs, the products you wish to process, the level of sterility you expect. For better operational efficiency, we can also automate their operation by equipping them with Panel PC or HMI solutions.
Need a quote for RABS for the pharmaceutical industry? Do not hesitate to contact us, our experts will quickly provide you with a free, personalized and non-binding quote.
Would you like an estimate for your project?
Do not hesitate to contact us for a personalized quote.