Quality Control in Pharmaceutical Isolators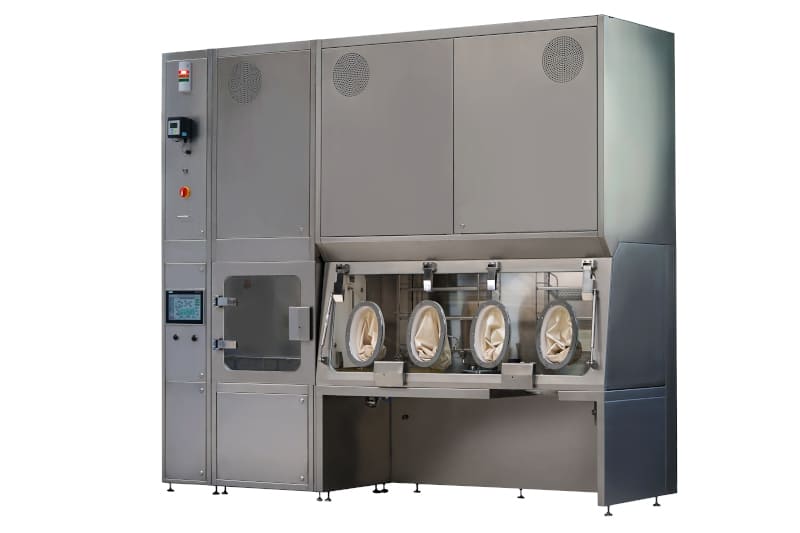 Before being placed on the market, your pharmaceutical products must undergo strict quality control in order to protect human health or animal health. According to Good Manufacturing Practices (GMP), testing should be performed throughout the manufacturing process.
To guarantee the reliability of the result, the quality control must be carried out in an environment separated from chemical, particulate and microbiological pollutants. Opt for quality control in an isolator for the pharmaceutical industry.
What is in-isolator quality control for pharmaceuticals?
Quality control is a process of carrying out analyzes of a limited number or samples of pharmaceutical products. Imposed by GMP (good manufacturing practices), it must be possible to carry out at any stage of manufacture. Pharmaceutical products can be subjected to chemical analyses, analyzes of particulate contamination, analyzes of elementary impurities, etc.
The results of the quality control tests make it possible to determine whether the pharmaceutical products comply with good manufacturing practices and to establish whether the processes have complied with the imposed levels of sterility.
If quality control is not carried out with adequate equipment, the products can be exposed to various types of contaminants, risking distorting the results. To avoid obtaining false negative or false positive results delaying the validation of the pharmaceutical product, the use of quality control in an isolator for the pharmaceutical industry is essential. Thanks to this device, the tests are carried out in a confined environment, protected from chemical, particulate and microbiological contaminants.
Your quality control in EREA isolator for pharmaceuticals
To carry out your quality control tests, opt for the pharmaceutical isolator designed and produced by EREA. Various models are offered. Our products comply with Good Manufacturing Practice (GMP) requirements. They guarantee safety and performance (class A (Iso 5)).
EREA pharmaceutical isolators have a HEPA filtration system. They offer you a highly sterile working environment and incorporate a laminar flow system and a hydrogen peroxide-based biodecontamination solution. The atmosphere inside the enclosure is controllable: temperature, pressure, hygrometry. Depending on the specificity of your quality control tests, you can easily configure these conditions thanks to an intuitive interface.
EREA, at the service of high standards and innovation
EREA is a French company specializing in the design and manufacture of containment systems for the pharmaceutical and biotechnology industries. We offer isolators, weighing stations, transfer carts, etc. All this equipment is designed for use in an ultra-clean air environment.
For quality control in isolators for the pharmaceutical industry, EREA is committed to providing you with equipment that complies with the requirements of GMP and applicable pharmaceutical regulations. This equipment is customizable, according to the specificities of your production units and the needs of your pharmaceutical industry. EREA quality control isolators are innovative and meet the strictest requirements. They effectively protect your products during sterility testing and guarantee reliable results.
If you have any questions, do not hesitate to contact our technical experts via our contact form on this site.
Would you like an estimate for your project?
Do not hesitate to contact us for a personalized quote.