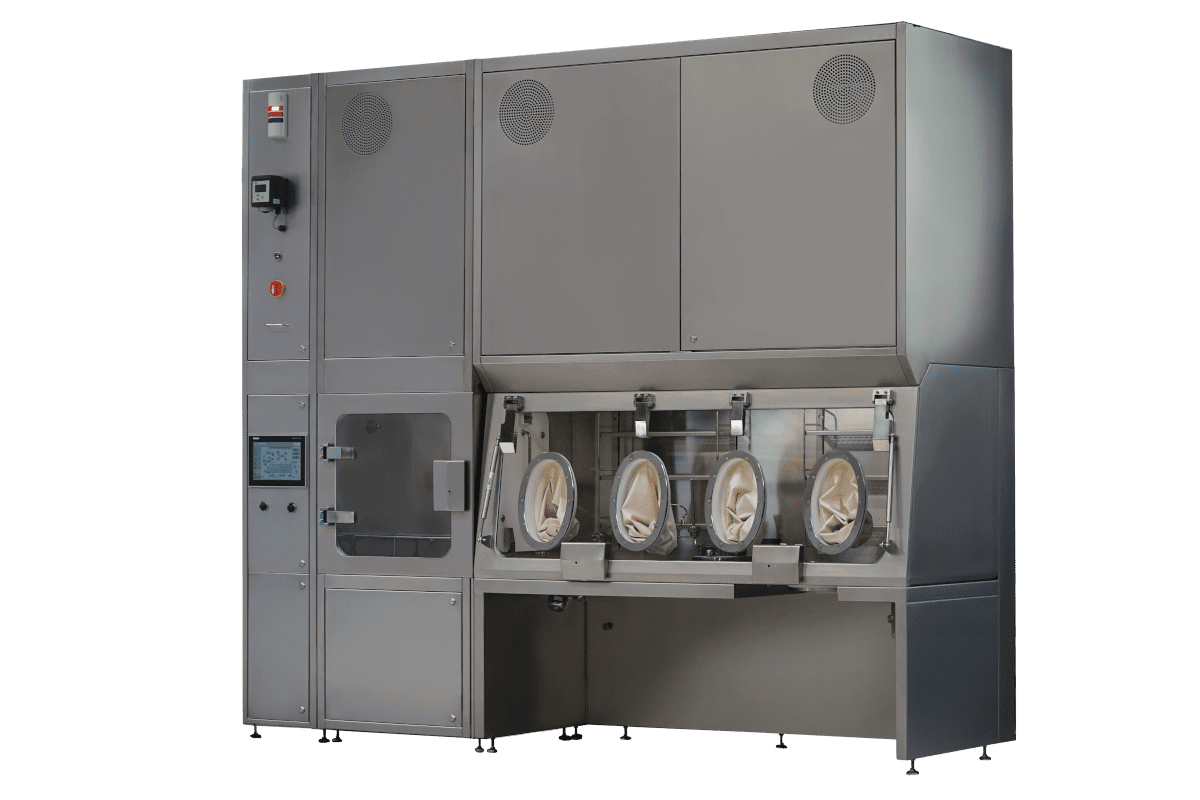 EREA develops innovative solutions in the field of sealing. We offer our customers equipment designed for the protection of pharmaceutical processes and operators.
Our products comply with current standards and GMP directives.  Discover our range of pharmaceutical isolators.
What is a Pharmaceutical Isolator?
A pharmaceutical isolator is a bacteriologically sealed containment area used for aseptic filling and toxic processes in the pharmaceutical and medical sector. It is equipped with a perfectly sterile main isolator in which you can handle, pack or store products with shoulder-length gloves. The isolator is also equipped with transfer systems to bring products in and out and dispose of waste. All these operations are carried out under aseptic conditions.
The use of a pharmaceutical isolator enables:
Containment: pharmaceutical processes are carried out in a protected environment. It prevents external (ambient air) and internal (equipment, personnel, raw materials, etc.) contamination.
Product transfer: the safety lock ensures that the atmosphere and containment are maintained during the introduction and extraction of products in the enclosure;
Our Range of Custom-made Pharmaceutical Isolators
EREA isolators have the following features:
High performance decontamination system: an integrated automatic decontamination system with a sporicidal agent (H202) guarantees the decontamination of all internal surfaces, thus reinforcing the control of contamination risks and therefore the level of sterility assurance.
Efficient air treatment and filtration system: The pharmaceutical isolator's air treatment and filtration system is effective in preventing contaminants from entering the unit. The system consists of an air intake filter that removes particles from incoming air, and a HEPA filter that traps bacteria and other micro-organisms;
Controllable and customisable internal environment: The EREA isolator provides control of the internal environment. Operators configure the optimal conditions for their process. This includes the ability to control the temperature, humidity and pressure levels inside the unit. In addition, operators can also adjust lighting and ventilation settings.
EREA's pharmaceutical isolators are suitable for many applications, such as:
Preparation, handling and processing cytotoxic and cytostatic products;
Quality control of high-potency active pharmaceutical ingredients (HPAPI) with fine particle size;
Preparation and weighing of powders in a laboratory or production unit;
Formulation and characterisation of APIs and HPAPIs for R&D laboratories;
Weighing and repackaging of toxic powders;
Mixing, grinding, sieving and drying of potentially hazardous products and active compounds;
All operations and handling of toxic or cytotoxic products of categories OEB (occupational exposure band) 4-5-6.
EREA Pharma Sterile Isolator
The sterile isolator eliminates all forms of airborne contamination and ensures the protection of operators and the environment. The containment device provides a sterile working environment in which your operators can handle or process products. It incorporates an ISO 5 class air handling system (NF, EN, ISO 14644-1). The handling of products in the enclosure is done by means of gloves. The containment level is high with a double HEPA filtration system and the possibility to choose between dynamic and static containment.
Sterility is maintained at all times with a decontamination SAS and a system of sealed transfer doors. The EREA sealed isolator is manufactured entirely from stainless steel sheet (SAS, box, piping, frame and ventilation). This design quality guarantees the strength and reliability of the system.
What is the sterile isolator used for? The sterile isolator is used in a variety of applications. For example, it is essential for handling infectious or radioactive substances, toxic or CMR products, sterile products, etc. Depending on the needs of your sterile processes, EREA can equip your isolator with an aero-biocollector, a particle counter, a batch report or an audit trail.
Discover EREA Pharma, your Expert Partner
Innovative products, tailor-made solutions and efficient service and support have made EREA a major partner for the pharmaceutical industry. Our pharmaceutical isolator meets the requirements of pharmaceutical production by integrating our innovation and technological know-how. Finally, our equipment ensures that products are kept contained, contamination risks are prevented and personnel are protected during all handling operations.
For over 30 years now, EREA has been developing tailor-made solutions and a complete range of laminar flow, safety cabinets, weighing stations and transfer trolleys equipped with LAF (Laminar Air Flow). We design our products in full compliance with current regulations and we deploy a strategy based on proximity and customer service.
In order to provide you with tailor-made iso-technical solutions, EREA has a 2,500 m2 workshop, a highly specialised team, airflow simulation and 3D visualisation software.
Get a free quote by contacting our experts. We will provide you with a quick and personalized response.
Would you like an estimate for your project?
Do not hesitate to contact us for a personalized quote.