Isolators With Freeze-Drying Equipment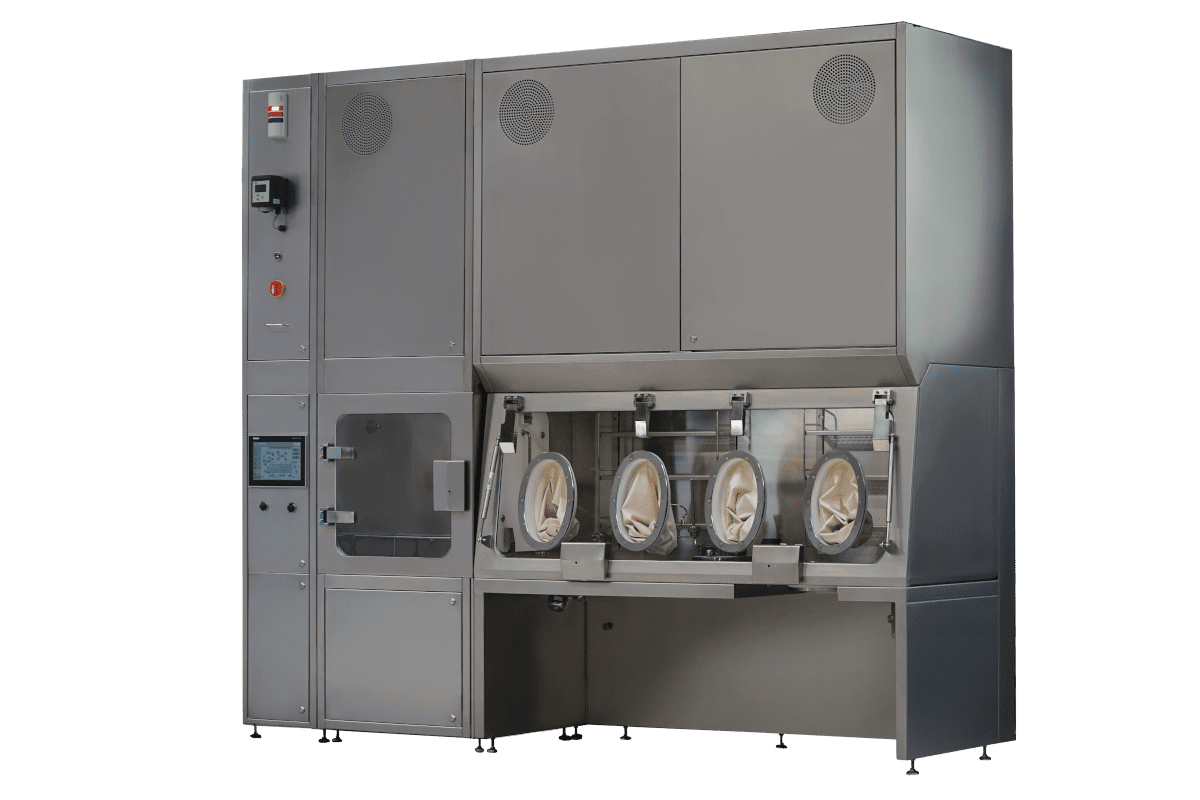 Freeze-drying is a low-temperature drying process that removes water from a product. Widely used in the pharmaceutical, biotechnology and food sectors, this industrial process can be time and energy consuming.
EREA has developed customised isolators with freeze-drying equipment that comply with current standards.
What is Freeze-Drying?
Freeze-drying is a low-temperature drying process that removes the water from a product. Three steps are necessary: freezing the product, then sublimation and finally desorption. The process is carried out by maintaining the product at a low temperature under vacuum. The product obtained is the lyophilisate. This technique works through the change of state of water and follows the physical mechanisms based on heat and matter transfer involved in the sublimation phenomenon. This technique has many advantages, including:
The conservation of the volume of the product, which differentiates it from drying;
Retention of product properties: after the operation, the product or solution retains its properties.
Freeze-drying is applied in various sectors such as the pharmaceutical, biotechnology and food processing industries. The choice of the freeze-dryer is essential and must be adapted to the industrial application that will be made (nature of the product to be freeze-dried, its packaging, the total volume). EREA has developed equipment designed to meet your needs and the regulatory requirements in this area.
Isolators with Freeze-Drying Equipment
EREA designs and manufactures units for efficient drying under aseptic conditions. They are intended for laboratory and industrial applications. Our isolators with freeze-drying equipment comply with all applicable standards and regulations.
The equipment we design and manufacture allows you to modernise your freeze-drying processes. They also help you to optimise sterile applications and the automation of product loading and unloading. With intelligent features such as nucleation control and self-adjusting process control, EREA meets the present and future needs of the pharmaceutical and biotechnology industries.
The isolator with freeze dryer consists of the following components:
Chamber ;
Condenser ;
Freeze-drying shelves;
Vacuum system;
Air supply system;
Cooling system.
All our isolators can be customised. We can add the following elements: constant height loading system, vial stopper, SIP sterilisation system, position detectors on valves, vacuum unit with dry pumps, redundant critical components, etc.
EREA Pharma, Solutions Made to your Needs
EREA provides you with tailor-made solutions. We have a 2,500 m2 workshop, a highly specialised team, air simulation and 3D visualisation software. We have also set up a clean room to carry out full-scale ergonomic tests.
EREA has developed a complete range of isolators as well as safety cabinets, RABS and laminar flow. As a specialist in ultra-clean air conditioning, our products are in full compliance with current pharmaceutical regulations.
Do not hesitate to contact us for a quote or if you have any questions. We will be happy to offer you a tailor-made solution.
Would you like an estimate for your project?
Do not hesitate to contact us for a personalized quote.