Isolator for sterile conditioning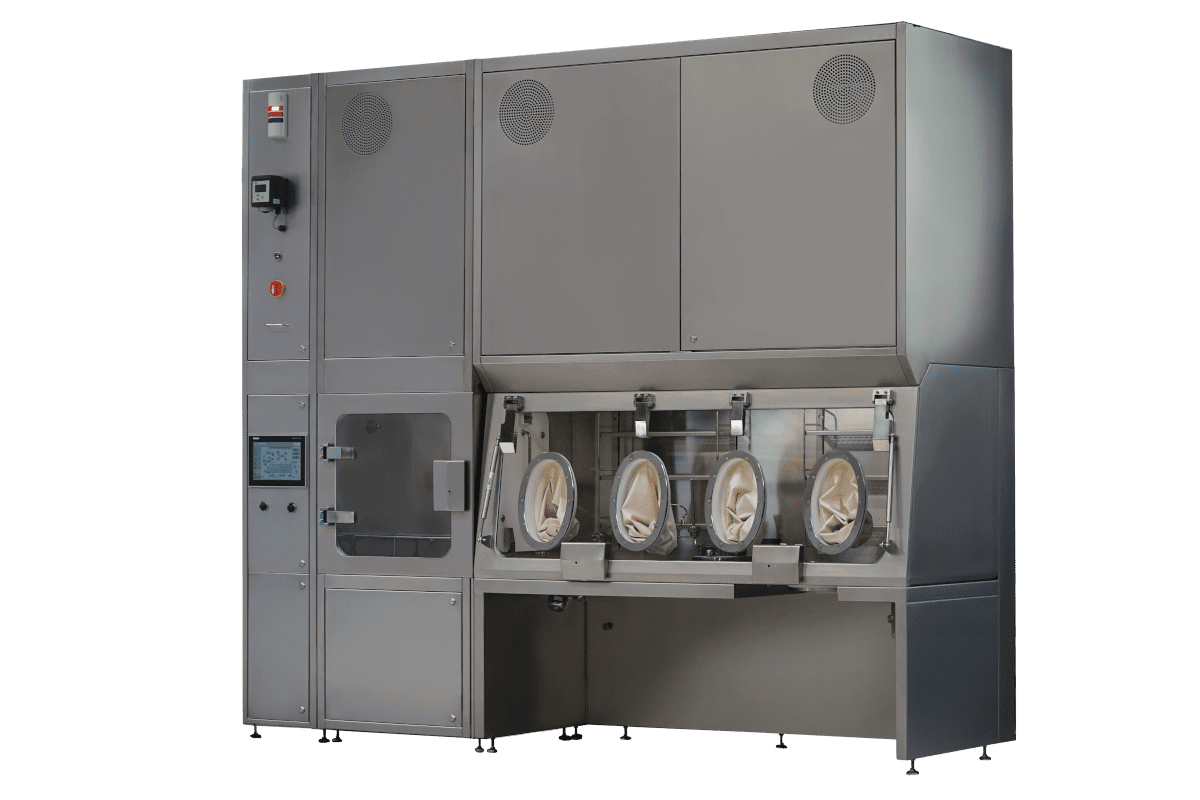 The packaging of pharmaceutical products must respect the sterility conditions required by the standards and regulations in force. The directives issued at European level are transposed into French law by means of decrees, orders and circulars and finally integrated into the CSP, the Good Manufacturing Practices (GMP) as well as the European Guidelines and Templates proposed by various European authorities and organisations. The use of an isolator for certified sterile packaging is therefore essential.
What is a sterile packaging isolator?
It is a bacteriologically sealed enclosure that isolates an environment. It creates an internal zone that is protected from contamination from the external environment or from humans. It is used to protect processes carried out in a controlled atmosphere and sterile environment. The products which are to be packaged are protected from contaminants and the safety of the operators is also guaranteed. The vacuum or overpressure operation guarantees sterility throughout the processes implemented.
EREA has developed an isolator for sterile packaging
EREA designs and manufactures containment solutions. We offer the EREA sterile packaging isolator. As a separating chamber for sterile packaging, the confined isolator meets ISO class 5 standards and the high standards imposed in the pharmaceutical industry.
Features :
the isolator incorporates a sterilisation device to allow confinement of the space during antiblast and chemotherapy preparations, weighing or handling of pharmaceutical compounds, transfers of materials or pharmacy equipment.

The hermetic enclosure can accommodate products, packaging, tools and equipment necessary for the manipulations and processes involved. For maximum protection, it is equipped with a transfer lock allowing the introduction and removal of the elements to be protected without breaking the containment or the aseptic properties of the enclosure.

The EREA isolator complies with class A standards (GMP EU JO 07/01/97 classification) to guarantee the continued sterility of pharmaceutical products.
EREA, manufacturer of customised solutions for the pharmaceutical industry
EREA is a French company that offers customised containment systems for the pharmaceutical industry. We have developed many solutions such as the isolator for sterile packaging, but also RABS, weighing stations, light flow equipment, transport trolleys and various other isolator models.
For over 30 years we have been supplying equipment to meet the specific needs of the pharmaceutical industry. In order to provide you with tailor-made isotechnical solutions, EREA has a 2,500 m2 workshop, a highly specialised team, airflow simulation and 3D visualisation software.
Contact our technical experts for a free, personalised quote.
Would you like an estimate for your project?
Do not hesitate to contact us for a personalized quote.