Isolator for the Pharmaceutical Industry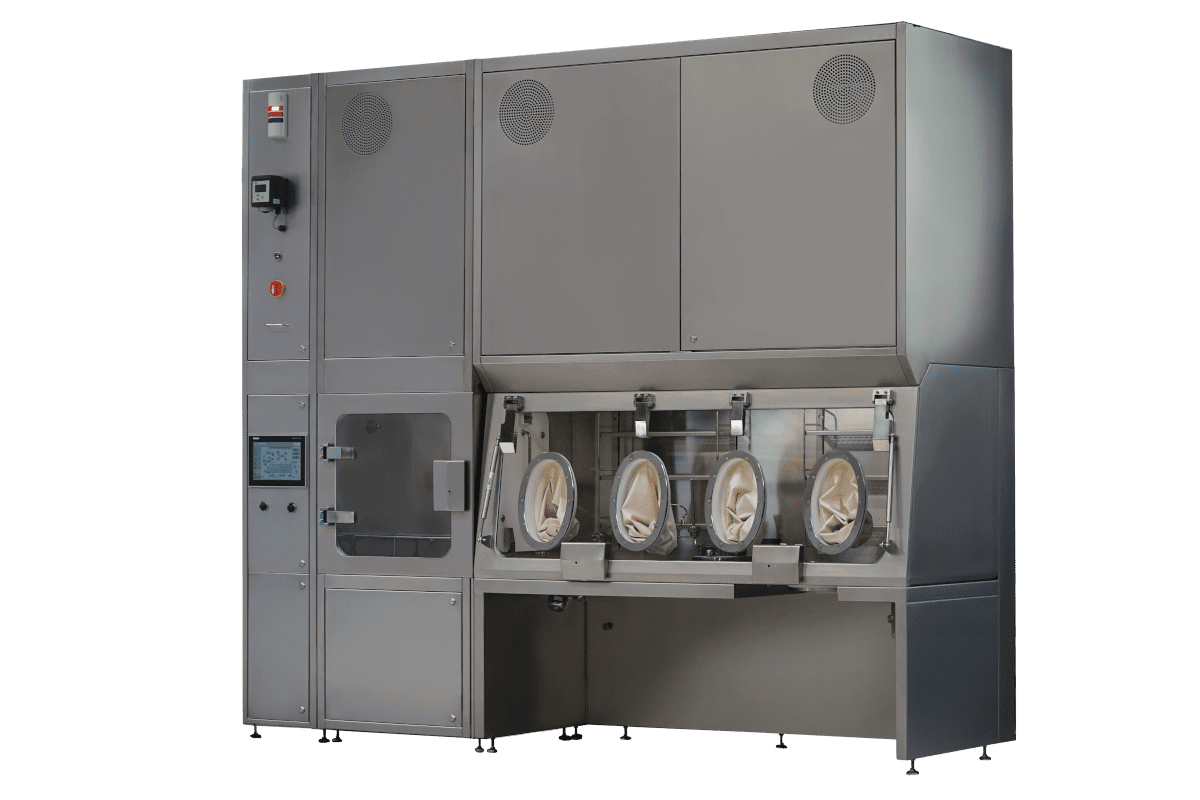 Compared with cleanrooms, isolators are the most effective and least expensive solution for pharmaceutical processes requiring an aseptic environment. They provide a controlled working environment, and ensure that processes comply with Good Manufacturing Practice (GMP) and applicable standards.
Why use a pharmaceutical isolator?
A pharmaceutical isolator is a device providing a confined, sterile enclosure used in the pharmaceutical and medical sectors, for aseptic filling and toxic processes. Thanks to this enclosure and the shoulder-length gloves placed on one of the walls, the equipment enables products to be handled, stored or packaged in a confined, sterile environment. Sterility and containment conditions are maintained during product insertion and retrieval in the enclosure, thanks to the transfer systems fitted. These are also used for waste disposal.
Isolators are extremely useful in the pharma-medical sector. It ensures product quality by protecting manufacturing processes from contaminants in the ambient atmosphere. Since the final products are sterile, patients are protected from potential contaminants. The integration of the equipment also protects personnel when handling high-risk products such as highly active pharmaceutical compounds (HPAPIs). Thanks to this equipment, they can safely handle the products in the enclosure using the gloves provided. What's more, the gloves ensure a good grip on the components. The isolator guarantees a high level of containment, enabling personnel to work undisturbed.
The containment solution designed and manufactured by EREA boasts a high level of performance and reliability. Deploying it enables the pharmaceutical and medical sectors to ensure that their manufacturing processes comply with the most stringent standards and regulations.
Technical features of a pharmaceutical isolator
The pharmaceutical isolator offers enhanced sterility thanks to its high-performance decontamination system. Using gas, it reduces particulate and microbiological contamination.
In addition, the particulate property is guaranteed by the device's efficient and innovative air treatment system. The air in the enclosure is constantly renewed by means of a suction device fitted with pre-filters and filters, and an air discharge system, also fitted with filters. These systems prevent pathogens, particles and other elements from entering the enclosure.
What's more, conditions in the isolator can be parameterized. Depending on the specifics of your aseptic, toxic or cytotoxic processes, you can define pressure, humidity, temperature and more. Controlling and monitoring these various parameters is easy, thanks to the equipment's integrated functions and software. A touch-screen display makes it easy to read and save settings.
The EREA pharmaceutical isolator is easy to integrate thanks to its compact design. It is also the most economical solution, as its maintenance and upkeep costs are far lower than those of a cleanroom.
EREA Pharma, 30 years' experience in the pharmaceutical industry
EREA Pharma has been the benchmark for 30 years in the design and manufacture of containment solutions for the pharmaceutical industry. This French company, located 150 km north of Paris, can provide you with an isolator for the pharmaceutical industry that meets your constraints and requirements. It's a tailor-made solution that complies with the standards governing your sector of activity. Certified Class A (Iso 5) according to the GMP EU JO 07/10/97 classification, it enables you to carry out a wide range of processes: surgical implant manufacturing, chemical synthesis and handling of active ingredients, quality control, handling of OEB4-OEB5 and cytotoxic products, R&D galenics, etc.
Find out more about our product by downloading our brochures or contacting our technical experts via our contact form on our website.
Would you like an estimate for your project?
Do not hesitate to contact us for a personalized quote.