Isolator for Filling Processes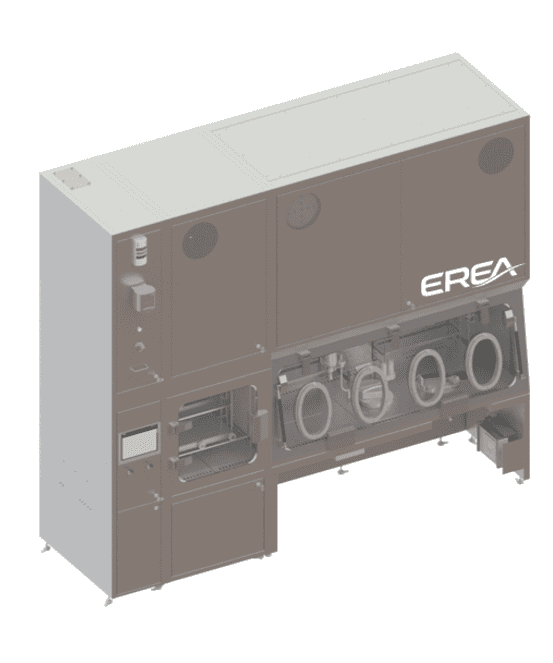 For filling process applications, EREA's aseptic isolators are designed to provide solutions by adhering to regulatory standards. The isolator we have developed is a compact, easy-to-use and safe equipment.
Achieve your Sterile Processes Reliably
The isolator for filling processes is designed for your automatic filling lines for liquids or powders. It has the advantage of offering a high level of sterility and safety, protecting your products and containers against any particulate, microbiological or chemical contamination.
Integrating an EREA isolator into your filling process has many advantages:
High level of safety and sterility: the equipment offers a level of sterility exceeding that of clean rooms thanks to its operation in overpressure or vacuum;
Long-term sterility: the use of the isolator allows you to guarantee the conformity of your pharmaceutical products to the standards in force;
Easy control and monitoring: thanks to its control panel, it is easier for your employees to control and monitor the humidity, pressure and sterility levels.
EREA, Custom Isolator Manufacturer
As a supplier and integrator of filling process isolators, EREA installs and qualifies its containment systems around the world. We provide you with efficient and economical solutions for your aseptic filling project.
We define our products in full compliance with the pharmaceutical regulations in force and we deploy a strategy based on proximity and customer service. According to the specificities of your laboratory, we will propose you adapted and customized solutions. The design and manufacture of our aseptic isolators for filling processes comply with the strict recommendations of GMP. These equipments are also compliant with the sealing standards imposed by ISO 14644-7.
EREA's Solutions and Expertise
EREA is a French company that designs and manufactures containment solutions for industries and laboratories. We have a team of experts operating in a 2,500 m² workshop 150km north of Paris. EREA is a specialist in controlled environments. We are able to provide you with efficient, innovative and customized solutions to ensure the quality of your products.
All our equipment is manufactured in France and according to strict protocols. Do not hesitate to contact us, our experts will quickly provide you with a free, personalized and non-binding quote.
Would you like an estimate for your project?
Do not hesitate to contact us for a personalized quote.