Isolator Decontamination Device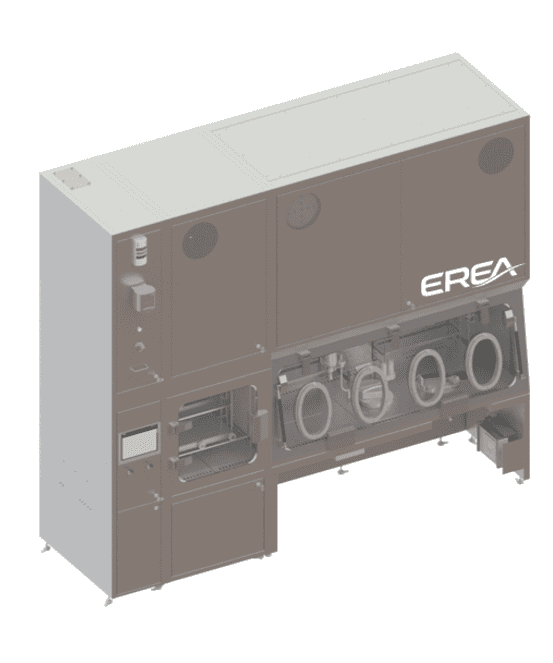 An isolator is an indispensable piece of equipment in the pharmaceutical field for aseptic applications. It allows the creation of a controlled atmosphere during the process in strict compliance with the various required standards. The glove box must therefore be cleaned of any microbiological contamination before starting any process.
In addition to manual cleaning, automatic methods (called sterilization) and then bio-decontamination have been developed to eliminate viable micro-organisms. EREA has developed a device for decontaminating isolators using H202 hydrogen peroxide vapor.
EREA Isolator Decontamination Device
Biodecontamination of isolators is a process that eliminates all traces of viable microorganisms. Currently, there are different solutions to perform such an operation: evaporation methods at room temperature of stabilized peracetic acid (APA) or by hydrogen peroxide (H202) vapor. Hydrogen peroxide and peracetic acid have a bactericidal, fungicidal and virucidal effect. The concentration of these two agents once evaporated is between 400 and 1000 ppm. Their post-biodegradation release into the atmosphere does not pose an environmental problem. The H202 method proposed by EREA has two advantages that make it preferable to peracetic acid: almost no corrosion and the possibility of continuous measurement by electrochemical probe.
The implementation of a decontamination based on H202 is simple and effective. It can be done at low temperature and its efficiency is satisfactory on several types of materials. Note that the H202 bio-decontamination process is used in the pharmaceutical industry, but also in the food industry and health care institutions.
Isolator with H202 bio decontamination
EREA offers the H202 bio-decontamination as a solution for isolator decontamination. This isolator decontamination device can be integrated or mobile. You can set the parameters according to the volume you wish to disinfect. It also works in an automated way. Equipped with a display, its use is simple and intuitive. The rinsing time and the programming of the volumes to be bio-decontaminated are made easy. The equipment can also integrate other functionalities such as the control of the diffusion rate or the temperature control. The EREA biodecontamination system is fast with validatable and repeatable cycles. Flexible and adaptable, the equipment complies with current regulations, guaranteeing you an efficient decontamination technology for your isolators.
EREA, manufacturer of isolators with H2O2 bio-decontamination
Located north of Paris, EREA is specialized in the design and manufacture of containment solutions. The EREA bio-decontamination device is efficient and easy to implement. We guarantee the quality and performance of our products. Agile and innovative, our products adapt to your work environment to meet your needs.
Do not hesitate to contact us, our experts will answer you quickly.
Would you like an estimate for your project?
Do not hesitate to contact us for a personalized quote.