Handling of hazardous and toxic substances (OEB 5 to OEB 6)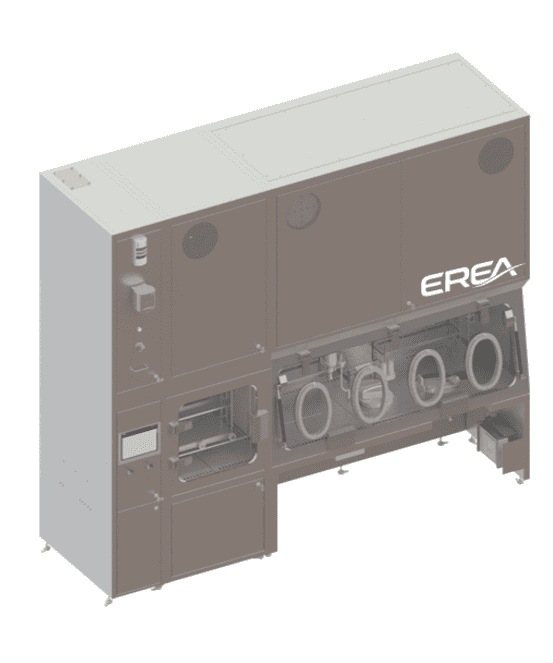 Do you operate in the pharmaceutical, medical or food industry and are you looking for adapted containment solutions?
Then protect your employees, your product and your work environment during the handling of hazardous and toxic substances by choosing the custom-made sterile or toxic isolator designed and manufactured by EREA Pharma.
Hazard Classification (EPO, PEL, OEL)
Since solids do not have the same degree of sensitivity or hazardousness, there are several classes of containment systems. The class is chosen according to the field of use of the system and also depending on its application. Specific threshold values for each product are set by the legislator or the customer. These threshold values are very useful, as they enable the selection of suitable components or systems or the correct working procedure for the handling of hazardous and toxic substances.
Several classifications or threshold values exist, such as:
The OEL (Occupational Exposure Limit) value: It corresponds to the weighted average concentration of a substance in the air on site. It is measured during a predefined period. In such an environment, there is no risk of acute or chronic damage to the health of employees;
The OEB value (Occupational Exposure Band): this classification only takes into account the toxicity of the pure substance. It is based on the principle that the more toxic a product is, the higher its classification.
Handling of hazardous and toxic substances
The need for containment solutions has been growing steadily in recent years. For the pharmaceutical industry in particular, they need closed, dust-free systems for the production of potent active ingredients. In order for the handling of hazardous and toxic substances to proceed properly, the working environment in which the employees operate must have a high level of safety.
Today, many companies are moving away from full protective suits. Their employees no longer work under a more open process. The concern with these traditional solutions is that they present a very high risk of contamination. For this reason, manufacturers are turning to more innovative solutions, such as toxic isolators. The latter has the particularity of offering maximum protection thanks to its various elements, such as the protective cover and the glove box. Toxic isolators are very effective for high containment missions thanks to their tight and closed process.
Why choose EREA Pharma for your isolator?
Need an isolator for handling your hazardous or toxic products? Then, offer a maximum level of safety to your employees and protect their working environment by choosing the custom-made sterile or toxic isolator manufactured by EREA Pharma. This equipment has many features and it is equipped with wall penetrations that guarantee the tightness of the work environment. It is also ergonomic since it is possible to adjust the height of its frame. In addition, the EREA Pharma toxic isolator can offer you several workstations, the number of which can be customized depending on your company's needs.
Opt for the EREA brand toxic isolator as it benefits from a "tightness class" 1 and 2. In addition, the containment solution meets OEB 5 and 6 requirements. Before handling hazardous and toxic substances, your employees are able to define their working environment in advance, by adjusting the temperature, vacuum and humidity. A dimmable RGB LED lighting system is also integrated to provide optimal working conditions. If you have specific needs, please let us know so that we can provide you with a custom-made toxic isolator. Need a quote? Make your request on our website.
Would you like an estimate for your project?
Do not hesitate to contact us for a personalized quote.