GMP class A isolators (ISO5)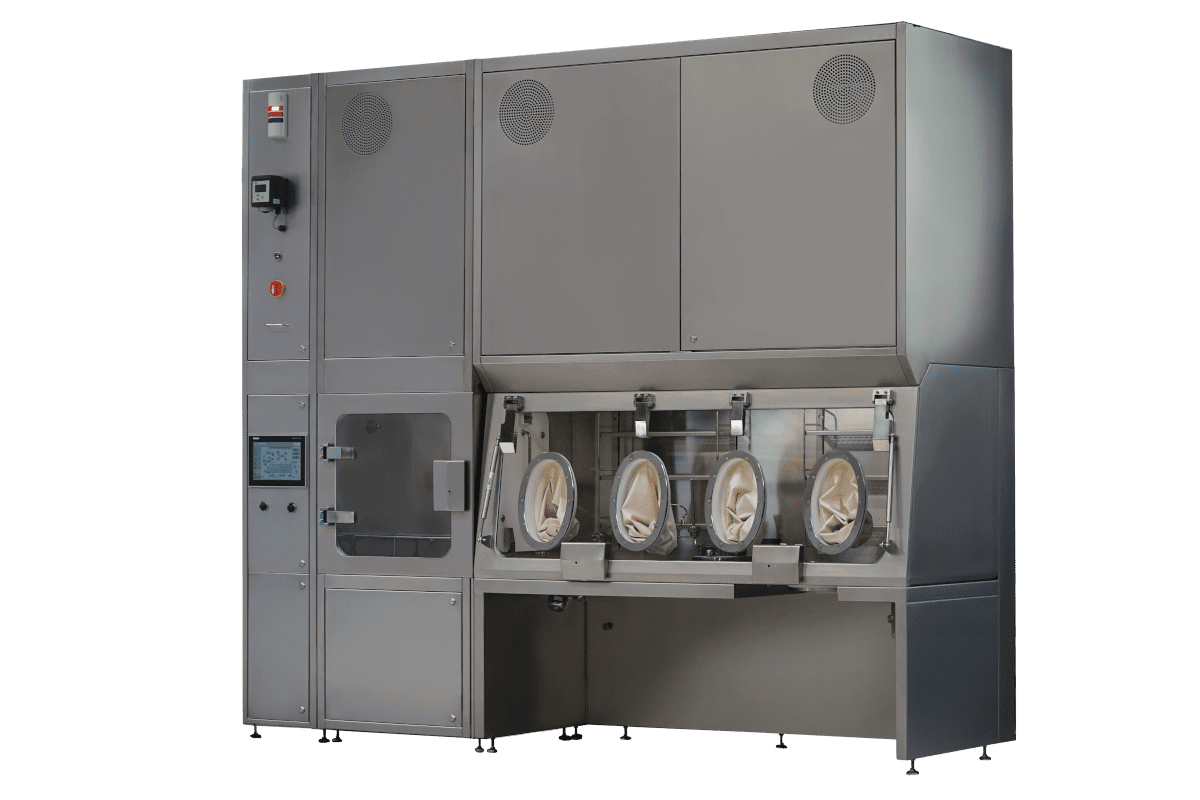 The French and European pharmaceutical industry has a high level of quality management in the development, manufacture and control of medicines. This manufacturing process is subject to a marketing authorisation system, which guarantees the quality of the products.
These conditions are strict and apply both upstream and downstream of drug production: from the receipt of raw materials to the release of the final products. EREA has designed equipment that complies with good manufacturing practices. Discover our GMP A class (ISO 5) production isolators.
Good Manufacturing Practices (GMP): GMP A Class Production Isolators (ISO 5)
Standards and regulations require compliance with Good Manufacturing Practices (GMP) in the manufacturing process of sterile medicines in the pharmaceutical industry. The National Agency for the Safety of Medicines and Health Products (ANSM) is the public body which, on behalf of the State, allows access to health products in France and ensures their safety. When a medicinal product is marketed in France, it has been assessed and authorised for marketing by the ANSM, or by the European Commission following an opinion from the European Medicines Agency.
Good Manufacturing Practices for medicinal products are one of the elements of quality management that ensures that products are manufactured and controlled in a consistent and standardised manner. GMP therefore applies to both production and quality control. Therefore, the equipment used must be designed, sized and installed in accordance with these rules and standards.
EREA is a specialist in custom-made containment and ultra-clean air equipment. Our equipment is easy to clean and maintain. Our solutions comply with the standards inherent in all stages of production: reception of raw materials, production and in-process controls, packaging and labelling to identify products, intermediates and active substances, right through to storage and distribution.
Custom-Made Isolators that Comply with the Strictest Standards
Cleanrooms and related controlled environments provide the means to control air contamination. ISO specifies air cleanliness classes in terms of particle number concentration per volume of air. It also specifies the standard test method for determining the cleanliness class, including the selection of sampling points.
Particles per cubic metre (maximum permissible concentrations of particles equal to or greater than those given below)
Class 0.1 µm 0.2 µm 0.3 µm 0.5 µm 1 µm 5 µm
ISO 5 100 000 23 700 10 200 3 520 832 29
EREA has developed GMP A class (ISO 5) production isolators to ensure compliance with good manufacturing practice. For laminar or turbulent flow, a bio-decontamination system (H202) is integrated into the equipment. The integrated software and options facilitate the control, recording and adjustment of pressures, temperatures and humidity levels. You will be able to carry out sterile processes and tests while guaranteeing the quality of your products, as well as handle toxic and cytotoxic products in a protected manner.
EREA isolators can be customised to suit your needs and processes. We provide design to commissioning, including equipment qualification (FAT/SAT/QI/QO).
Depending on your production process requirements, we can customise your GMP A class (ISO 5) production isolators.
EREA Pharma, at the Service of Innovation and High Standards
For over 30 years now, EREA has developed feasible adaptations, processes and sterile tests for the pharmaceutical industry. We also offer a complete range of laminar flow, safety cabinets, weighing stations and transfer trolleys equipped with LAF (Laminar Air Flow). We design our products in full compliance with current pharmaceutical regulations and have a strong focus on customer service and proximity.
In order to provide you with tailor-made iso-technical solutions, EREA has a 2,500 m2 workshop, a highly specialised team, airflow simulation and 3D visualisation software.
Get information on our equipment by contacting our technical teams. We are able to provide you with fast, detailed and personalised answers.
Would you like an estimate for your project?
Do not hesitate to contact us for a personalized quote.