Customized Pharmaceutical Solutions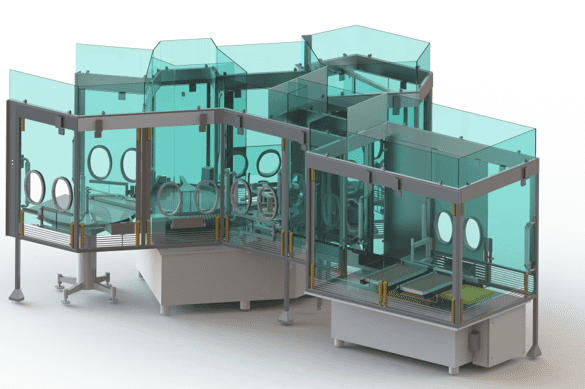 In the pharmaceutical and biomedical fields, operators are often required to handle products containing hazardous compounds. EREA offers you its range of custom-made isolators to meet the requirements of tight containment during toxic processes and aseptic distribution.
EREA: Tailor-made Pharmaceutical Solutions
Isotechnics is the safest and most cost-effective system for maintaining absolute protection of pharmaceutical products and ensuring the safety of operators and the environment. More commonly referred to as "glove boxes", isolators are fully enclosed, sealed and pressurized units that meet the most stringent requirements without the need for absolute containment, class III and IV applications or cytotoxic production. Compared to clean rooms, isolators improve product quality, reduce operating costs and reduce the possibility of adverse effects on technicians and operators. EREA advises you to meet your needs for customized pharmaceutical solutions.
EREA: Our Isotechnical Solutions
At EREA, we provide you with turnkey isotechnical solutions. Our isolators can be laminar flow or turbulent flow for your sterile processes and tests. We have developed a range dedicated to the handling of toxic or cytotoxic products: the toxic isolator. EREA offers other customized pharmaceutical solutions such as :
RABS, Restricted Access Barrier Systems;
a biological and microbiological safety station (PSM);
a weighing station to control cross contamination;
a transfer cart for your sensitive products.
All these solutions are the result of research and innovation by our team of experts to meet the challenges of the pharmaceutical industry.
EREA: Expert in Pharmaceutical Solutions at Your Service
In order to provide you with customized isotechnical solutions, EREA has a 2,500 m2 workshop, an ultra-specialized team, airflow simulation and 3D visualization software. We have also set up a clean room to carry out full-scale ergonomic tests.
Thanks to our expertise, we are able to offer you a complete range of isolators, but also safety cabinets and laminar flow systems. We offer all the equipment that requires ultra-clean air conditioning.
Do not hesitate to contact us for a quote or if you have any questions. We will be happy to offer you a customized solution.
Would you like an estimate for your project?
Do not hesitate to contact us for a personalized quote.