Aseptic Transfer Isolators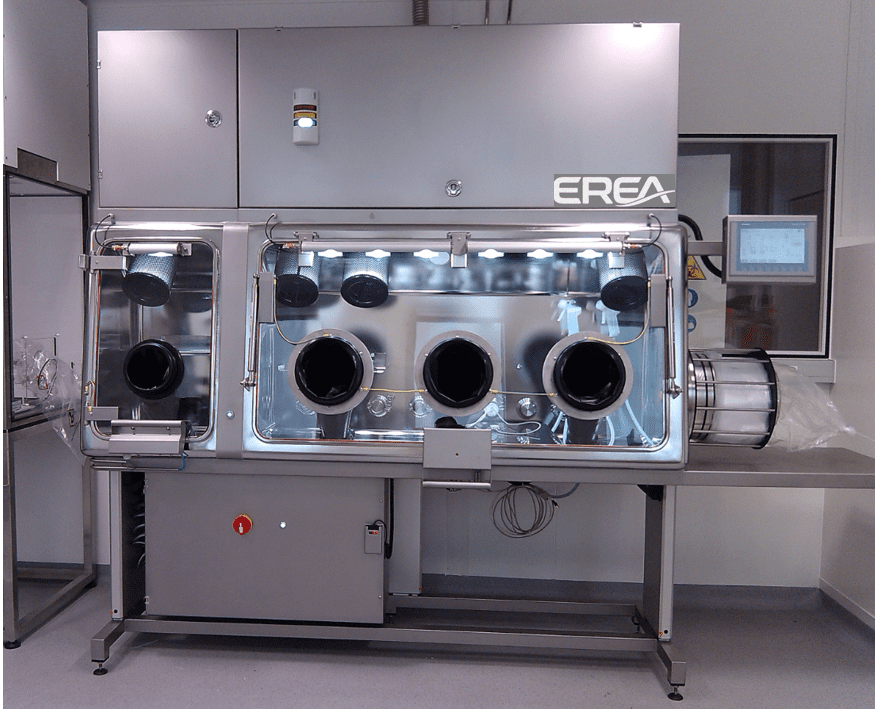 Carry out the transfer of your sterile or toxic products in complete safety by equipping your company with an aseptic transfer system.
This equipment allows you to introduce or handle your products in confined spaces without breaking the containment. It also allows you to remove them. Need a designer and manufacturer of transfer isolators? Call on EREA Pharma. We can provide you with customized equipment.
Isolators with Transfer System
An isolator with transfer system is a device designed to ensure the aseptic evacuation or transfer of products, waste, materials, toxic materials or infectious risk substances from one sterile or controlled environment to another. It also allows for the aseptic transfer to the incineration stream. The objective is to protect the products from the outside environment by confining them. All operations take place without any break in containment, which protects the sterile products from external pollutants.
The isolator also guarantees the safety of the operator who manually transfers toxic or infectious products. By virtue of using the system, there is no direct contact between the operator and the products.
The equipment is equipped with a connection system with a secure lock. This blocks the opening of the transfer door to the point where the operator uses a suitable accessory, connector or other external device to unlock it.
The use of transfer isolators has many advantages, including:
Optimised safety: they maintain containment and prevent contamination;
Sterile processes in compliance with standards: Using the device allows you to bring your pharmaceutical and biotechnology processes into compliance with current standards and regulations;
Practicality: the isolator guarantees an increase in your productivity thanks to its ease of use.
EREA Pharma, Manufacturer of Customised Isolators
EREA designs and manufactures several models of transfer systems for the pharmaceutical and biotechnology industries. We offer efficient equipment with a high level of sterility and safety.
The isolator we manufacture is in compliance with class A standards (GMP EU JO classification, 07/01/97). Depending on your needs, our transfer isolators can be made up of various components, such as one or more transfer systems and a main isolator. The main isolator allows for the storage, manufacture and packaging of the products. The picker can handle them using specific gloves. They allow access to the confined area and thus to handle the product. The transfer systems are used for the entry, exit and sterilisation of products and for the disposal of waste.
In addition to transfer isolators, EREA is also a designer and manufacturer of other iso-technical solutions, such as RABS, laminar flow and FFU, transfer trolleys, PSMs, sampling cabins and weighing stations.
EREA Pharma, your Expert Partner
EREA is your partner for the modernisation of your pharmaceutical and biotechnological manufacturing processes. For the design and manufacture of transfer isolators, we take into account your needs and provide you with equipment adapted to the requirements of your production units. Made in France, our solutions are of guaranteed quality. Their level of sterility and safety complies with the standards in force, which guarantees the quality of your products and also the protection of your employees.
Ask for a free quote for our transfer isolators, we will provide you with a free, detailed and non-binding quote.
Would you like an estimate for your project?
Do not hesitate to contact us for a personalized quote.