Aseptic Process to Protect Pharmaceutical Products from Contaminations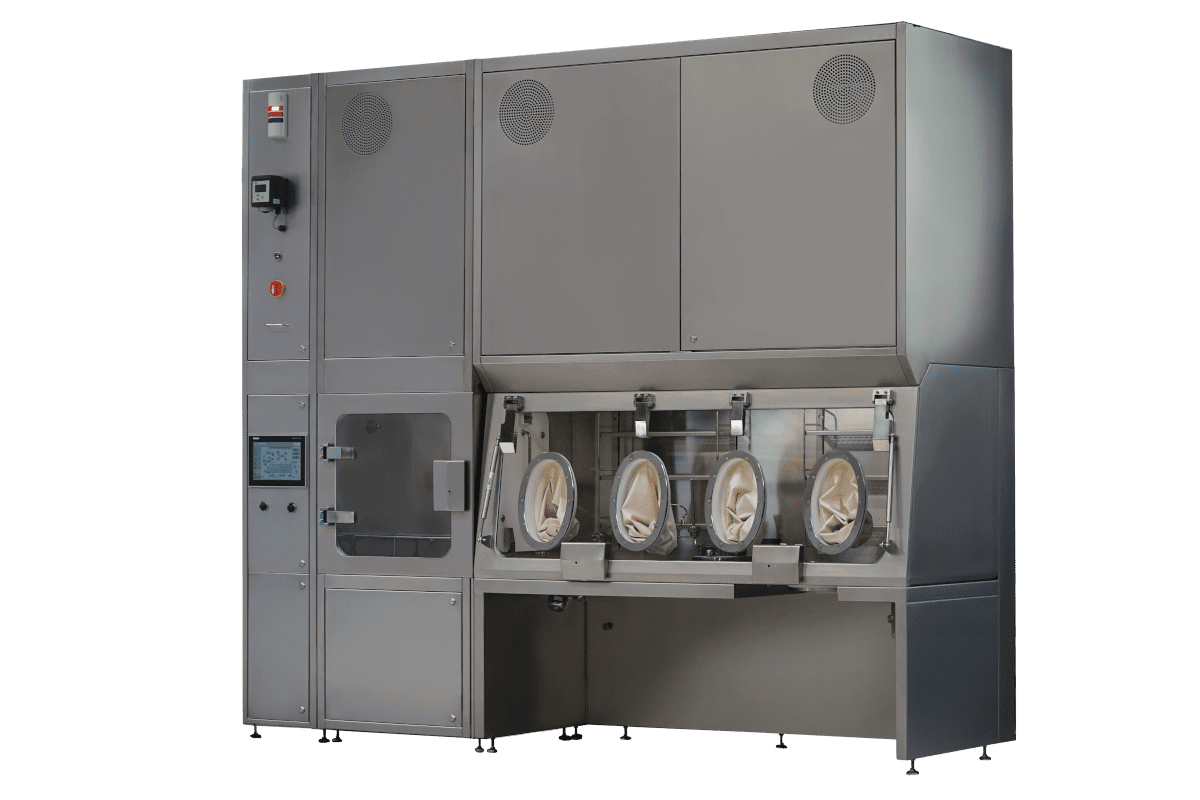 An aseptic process protects the pharmaceutical product from external (ambient air) and internal (equipment, personnel, raw materials, etc.) contamination from manufacture to packaging. The aim of contamination control is to protect together or separately:
the manufactured product ;
the operator when handling potentially toxic products
the environment.
EREA has developed a range of isolators that ensure aseptic production and processes protected from contamination, as required by the pharmaceutical industry and its related applications.
Aseptic Processes Protected From Contamination
Standards and regulations require compliance with Good Manufacturing Practices (GMP) for medicines. Contamination is the unintentional introduction of impurities of a chemical or microbiological nature, or foreign matter, into or onto a raw material, intermediate or active substance during production, sampling, packaging or repackaging, storage or transport. It is therefore necessary to work with equipment that guarantees total asepsis. Each step (weighing, mixing, shaping, compression, filling, coating, encapsulation, primary and secondary packaging) requires special measures to avoid a breach of asepsis.
EREA offers barrier technologies and isolators with an aseptic distribution area. The containment area is completely secure and GMP compliant. Your aseptic processes are protected from contamination.
Tailor-Made Isolators For Your Aseptic Processes
EREA has developed class A (ISO 5) isolators that guarantee compliance with good manufacturing practices. With laminar or turbulent flow, the integrated software and options facilitate the control, recording and adjustment of pressures, temperatures and humidity levels. Integrated automatic decontamination system with a sporicidal agent (H2O2) ensures that all internal surfaces are decontaminated. Your aseptic processes are protected from contamination.
EREA's aseptic process isolators are based on proven standard concepts (mechanical, process, electrical, etc.). The isolators are customizable and our experts are available to determine the functionality, size and design for your manufacturing process. Our goal is to provide you with equipment that perfectly meets your needs in order to optimise the productivity of your industrial processes.
The marketing of equipment for aseptic processes requires an in-depth knowledge of the markets and regulations. EREA constantly monitors the standards and rules in force in order to integrate new production techniques and permanent training of our teams, in line with the evolution of the quality reference system. Finally, mastery of this reference system enables us to choose the best technologies and manufacturing innovations in order to meet the expectations of the pharmaceutical sector with precision.
EREA Pharma, Your Expert Partner
Innovative products, customised solutions and efficient service and support have made EREA a major partner for the pharmaceutical industry. Our aseptic process isolator meets the requirements of pharmaceutical production by integrating innovation and technological know-how.
For over 30 years now, EREA has developed tailor-made solutions and a complete range of laminar flow, safety cabinets, weighing stations and transfer trolleys equipped with LAF (Laminar Air Flow). We design our products in full compliance with current regulations and we deploy a strategy based on proximity and customer service.
In order to provide you with tailor-made iso-technical solutions, EREA has a 2,500 m2 workshop, a highly specialised team, airflow simulation and 3D visualisation software.
Get a free quote by contacting our experts. We will provide you with a quick and personalised response.
Would you like an estimate for your project?
Do not hesitate to contact us for a personalized quote.