Aseptic Isolator for Filling Vials and Syringes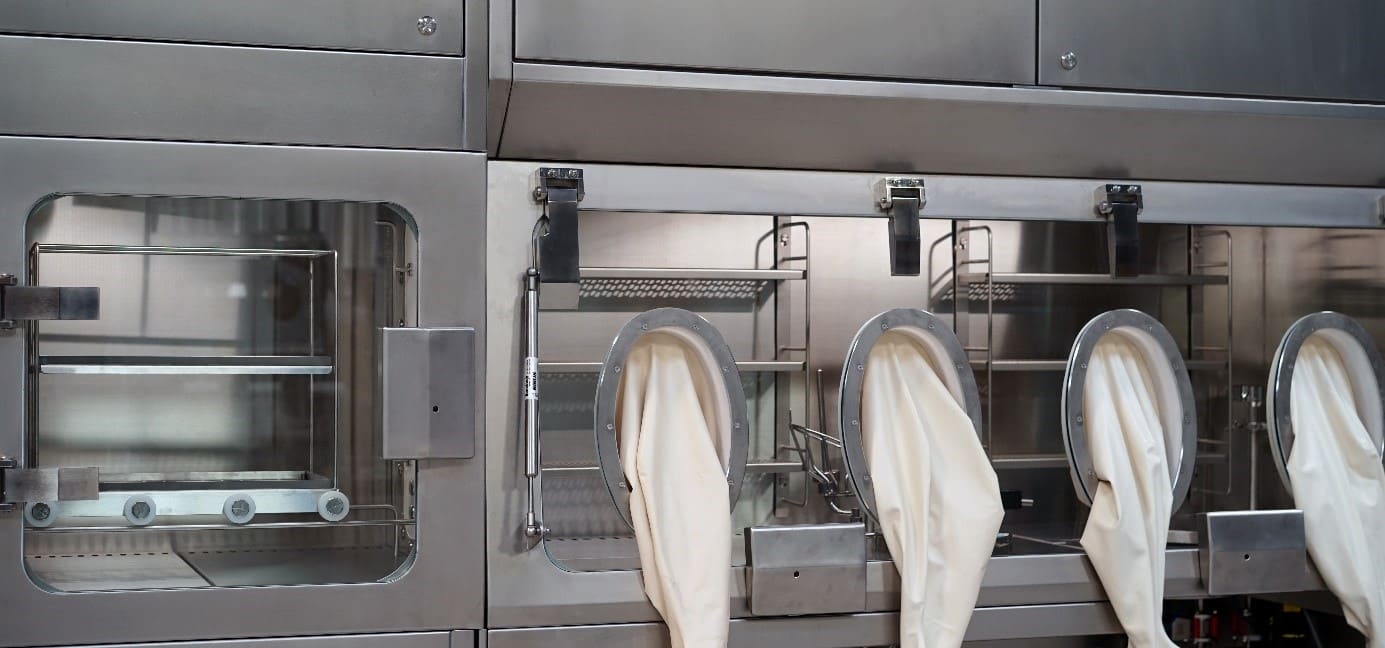 To ensure that your sterile tube filling processes comply with Good Manufacturing Practice and the requirements of the standards and regulations governing your industry, use the solution we offer. We design and manufacture aseptic isolators for vial and syringe filling.
This equipment enables you to protect liquid and semi-liquid products from ambient air contaminants during filling.
What is the purpose of the aseptic filling isolator?
An aseptic filling isolator is a piece of equipment providing an aseptic environment for filling vials and syringes in various industrial sectors. It differs from the classic aseptic isolator in that it is fitted with a robotic filling solution. It is used for automatic filling of liquid and semi-liquid products in the pharmaceutical, cosmetics, chemical and food industries.
Thanks to the aseptic isolator for vial and syringe filling, products are packaged in an environment separated from ambient air contaminants. During the process, they are protected from all forms of contamination, ensuring compliance with BMPs and current standards.
The equipment features a main chamber made up of several gloves. The number of gloves can be customized according to the needs of your manufacturing process. Product infeed takes place via the transfer airlock, thus avoiding any breach of containment. The filler is equipped with a "mouse hole" trapdoor for product extraction.
The isolator protects not only the product, but also the operator during filling and capping. The enclosure is equipped with a number of features, such as an automatic filling line for vials and syringes, a filling station with pump, an automatic pick&place cap removal system, an automatic cap screwing machine, an integrated bio-decontamination system using hydrogen peroxide (H2O2)…
How an aseptic isolator for vial and syringe filling works
The aseptic vial and syringe filling isolator is managed and controlled by a touch-sensitive panel PC, integrated into the control module. It monitors pressure regulation, flow and decontamination parameters. It also triggers alarms if any faults or anomalies are detected.
The equipment is also able to monitor the operation of the device thanks to the PcVue solution, and to provide customized, user-friendly reports thanks to the Dream Report solution.
In addition, the isolator for aseptic filling of vials and syringes is equipped with a tricolour buzzer. This is triggered in the event of pre-clogging or clogging of filters or ventilation faults. It also features dimmable LED lighting, mounted on the ceiling of the enclosure.
The isolator workspace can be cleaned with hydrogen peroxide and other cleanroom cleaning agents. The materials used are compatible with these products.
EREA Pharma – Designer of aseptic isolators for filling vials and syringes
EREA Pharma is the partner of the pharmaceutical, food, cosmetics and chemical industries for the design and manufacture of customised sterile filling isolators. Our products are developed at our premises located 150 km north of Paris, close to London, Brussels and Frankfurt.
EREA's aseptic vial and syringe filling isolator is designed to meet the requirements of your production line. Its high level of containment ensures that the production of your products complies with GMP and current standards. Depending on your needs, we can modify the features of your isolator. For example, our engineers can fit it with a gripper robot to enable it to handle a variety of container shapes.
Get a free, personalised, no-obligation quotation by contacting our technical experts via our telephone hotline or our contact form on our website.
Would you like an estimate for your project?
Do not hesitate to contact us for a personalized quote.