RABS for Sterile Application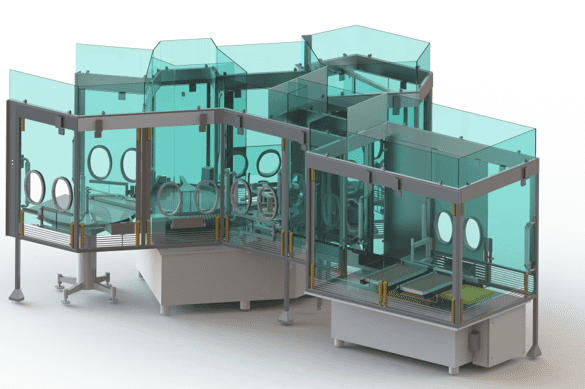 Need to reduce your expenses related to the installation of sterile systems? Then, instead of installing sterile clean rooms, choose the Restricted Access Barrier Systems (RABS) manufactured by EREA Pharma.
In addition to saving you money by reducing sterile volume, our equipment also guarantees the protection of your products and your employees. Ask for your RABS quote for sterile applications.
RABS for the protection of products and operators
The RABS designates a bacteriologically hermetic closed device used to isolate an environment. Its internal area is protected against any external contamination from the environment or humans. It is one of the solutions for the protection of products and people in pharmaceutical filling.
RABS for sterile applications is the future of the pharmaceutical industry. The system allows the containment of the sterile area to the smallest possible area requiring sterility. For this reason, it is suitable for use in a Class D cleanroom. Choosing a RABS for your sterile applications allows you to benefit from various advantages such as:
High level of sterility and safety, allowing the handling of toxic or sterile products, infectious or radioactive substances, etc. The equipment guarantees the protection of sterile products against contamination and the protection of operators against potentially dangerous substances;
Cost reduction: the implementation of the RABS system costs less than the installation of a cleanroom. It also requires very little maintenance;
Increased productivity: there are no more procedures related to cleaning, sterilization and garment changes, thus increasing the working time of the operators.
Sterile Applications
Pharmaceutical, biotech and food industries need RABS for sterile applications. Most of them are now looking for such equipment to ensure the quality of their products and the safety of their operators.
For the pharmaceutical industry, containment systems are of great use in their drug manufacturing processes. They are used for the aseptic filling of vials, ampoules and syringes.
In biopharmaceutical and antiviral therapy processes, restricted access barrier systems allow the containment of cytotoxic agents. In pharmacies and hospitals, healthcare professionals use them for compounding.
Regardless of the sector of activity, RABS can be used in various sterile applications such as aseptic filling lines, sterile product loading, sterility testing, sterile micronization, etc.
EREA Pharma is an expert in the designing Sterile RABS
Treat yourself to highly secure containment systems by opting for EREA Pharma's RABS.  For the containment of medical, pharmaceutical, biotechnological and agri-food processes, we provide you with the best quality isolators. EREA Pharma is highly skilled in the sterile and/or toxic field. Our assets allow us to better understand your needs and to offer you solutions that can be easily integrated into your production units.
Discover the EREA Pharma restricted access barrier systems. Depending on your needs and the product you handle, you can customize them. In addition, to effectively protect your PLCs and operators, they are equipped with safety loops. EREA Pharma RABS can also work automatically with HMI or Panel PC solutions.
Need more information about our products and services? Then contact our sales team to offer you a personalized quote for RABS for sterile applications. We assure you a quick and precise answer.
Would you like an estimate for your project?
Do not hesitate to contact us for a personalized quote.