Pharmaceutical Isolator for the Production of Active Ingredients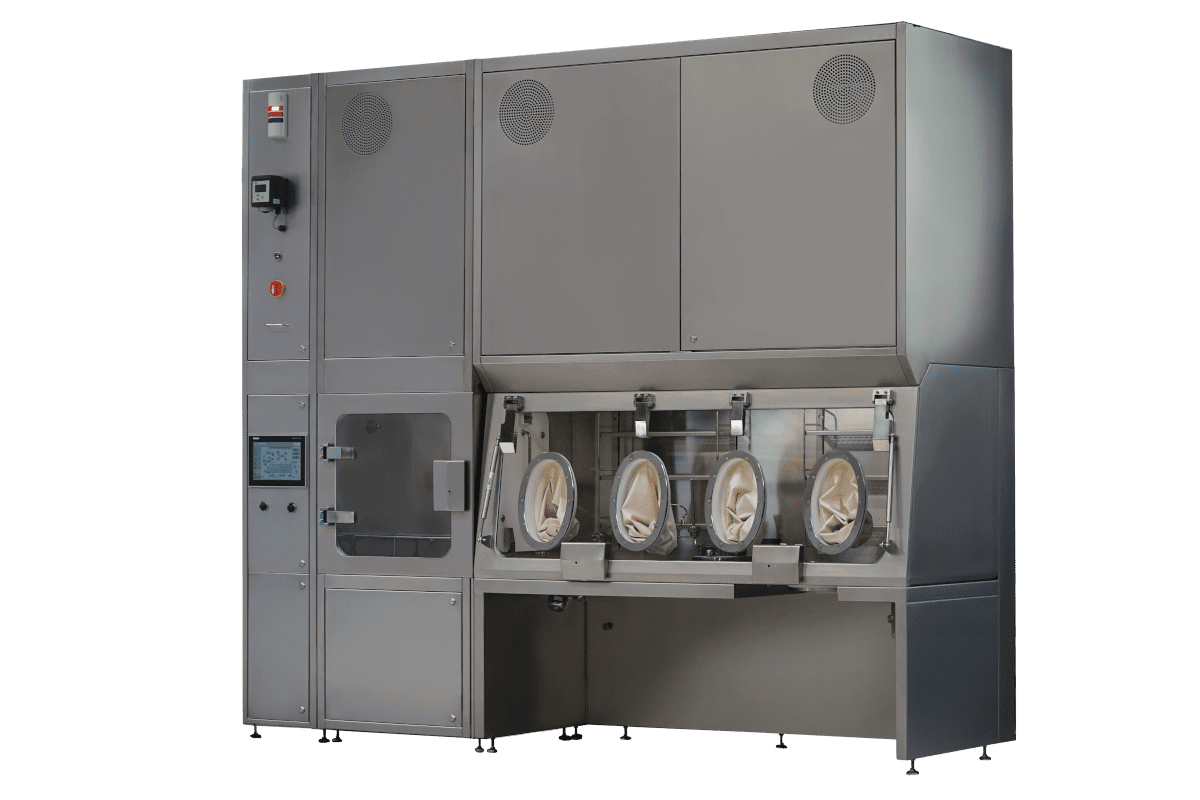 Operators in the pharmaceutical industry are exposed to active ingredients during drug manufacturing, product formulation and packaging. To protect them, regulations require the deployment of a source containment solution and the wearing of appropriate personal protection.
EREA Pharma, the specialist in containment solutions, designs and manufactures pharmaceutical isolators for the production of active ingredients.
What is the need for a pharmaceutical isolator for the production of active ingredients?
The pharmaceutical isolator for active ingredient production is a bacteriologically-tight containment device designed to secure active ingredient manufacturing processes. It consists mainly of a perfectly sealed enclosure in which products or substances are handled using gloves attached to one of the walls. The isolator is also fitted with transfer systems enabling products to be inserted and retrieved without breaking containment conditions.
When it comes to protecting pharmaceutical and medical processes, the use of isolators for the manufacture of active ingredients is essential. It separates the production area from the personnel/environment. It prevents contamination of operators and the environment by active ingredients processed inside the enclosure. At the same time, the equipment protects products from outside contaminants. It offers a level of containment far superior to that of the cleanroom.
The isolator is suitable for handling and processing various types of active ingredients. Its integration ensures that processes comply with the strict requirements of Good Manufacturing Practice (GMP) and applicable regulations.
How a pharmaceutical isolator works
To ensure the integrity of the clean, contained environment, a pharmaceutical isolator for the production of active ingredients must have a number of features. For closed-loop control of chamber pressure, the isolator is fitted with positive and negative pressure systems. It is possible to check and parameterize conditions in the internal chamber, such as pressure, humidity, ventilation flow rate, etc. The information on conditions inside the isolator is easy to read, as it is displayed on a touch screen with integrated PLC.
This containment solution for the manufacture of active ingredients can be installed in cleanrooms and controlled areas. Its operation is identical to that of a stand-alone unit. It is equipped with a ventilation system filtered by ULPA filters and an exhaust system filtered by HEPA filters. For enhanced operational efficiency, the isolator features opposing work faces. This design technique ensures comfort and ergonomics when handling products with gloves.
Sterile handling of active ingredients
To ensure that your active ingredients are handled under sterile conditions, opt for the isolator designed by EREA. This French company is a reference point in the design, manufacture and supply of containment solutions. The solutions it supplies are designed for specific applications. Whichever isolator you order, you can rest assured that our products are made in France, offering superior manufacturing quality. It offers a high level of packaging and benefits from an efficient, reliable and high-performance decontamination system.
EREA Pharma's pharmaceutical isolator for the production of active ingredients guarantees the safety of your operators and the environment during your processes, thanks to the sterile, confined environment it provides. It offers a range of options and integrated software for easy recording and adjustment of pressures, temperatures, humidity levels, etc. Depending on your constraints and requirements, our engineers will be able to customize your isolator.
Do you have any questions about our isolators? Please feel free to contact us via our contact form or phone line.
Would you like an estimate for your project?
Do not hesitate to contact us for a personalized quote.